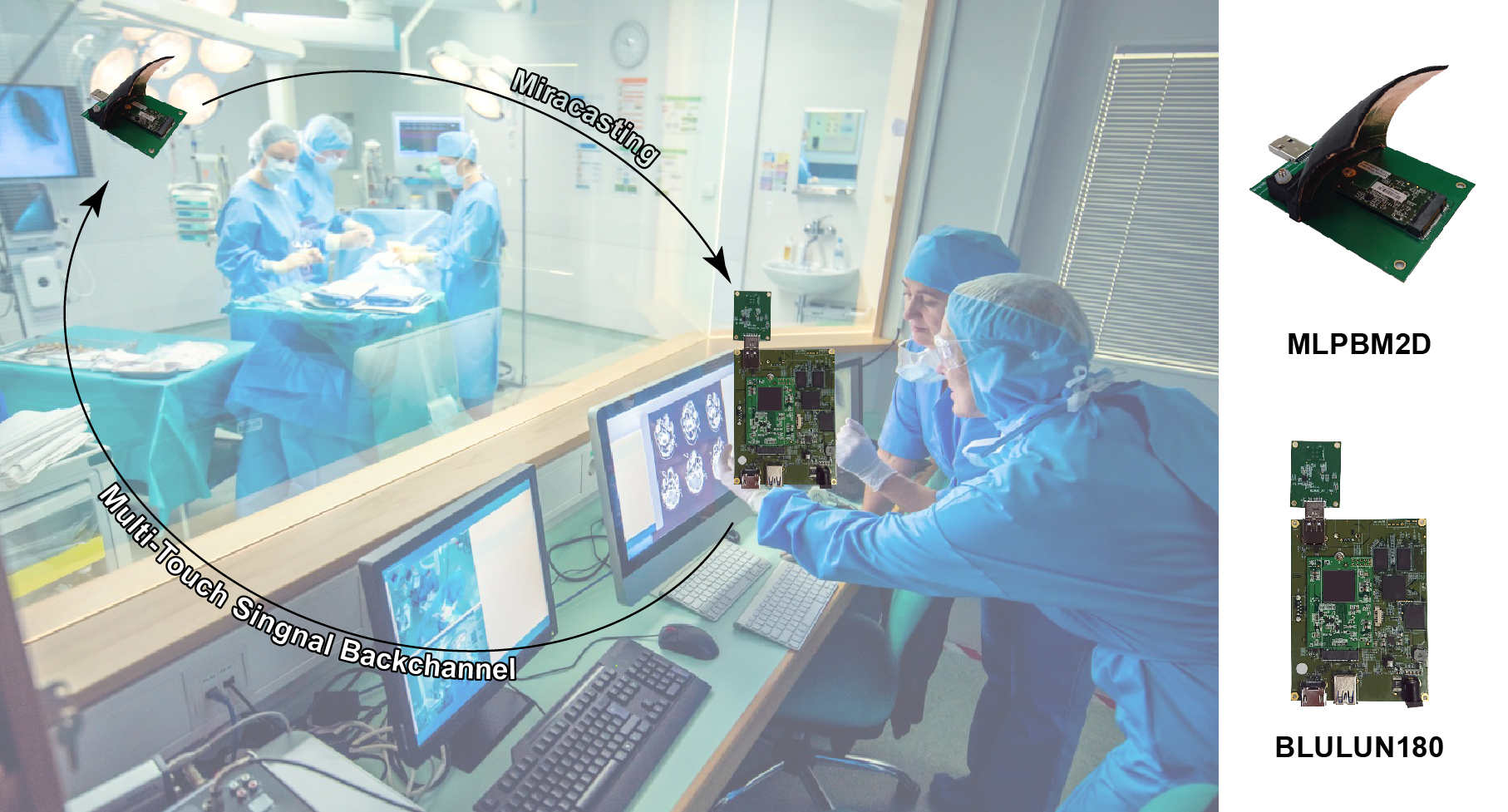 [WIRELESS GIGABIT MEDIA SERVER OVERVIEW]
The Wireless Gigabit Media Server powered by Millitronic provides high speed
connectivity for touch panel and USB device in bi-directional communication between windows platform

Millitronic wireless gigabit media server is perfect for smart class room and industrial central controller.Seamlessly connects with interactive panels, bi-directional sendingimage and touch signals at the same time.
---------------------------------------------------



BLULUN180 OVERVIEW
The BLULUN180 powered by Millitronic
for Wireless Gigabit (IEEE 802.11ad)
connectivity,which includes radio and
baseband chip set with 60GHz phase array.
This module provides USB3.0 host , HDMI
1.4 interface, and supports bi-directional
communication.
Features
■ Adaptive beamforming algorithm for RF link budget
■ IEEE802.11ad compliance
■ Bi-direction communication
■ 150 degree wireless FOV
■ 1Gbps @ LOS 10 meters
■ Size: 110mm X 82mm
Radio Front-end Characteristic
■ Direct-Conversion
■ Beamforming phase array
■ Support Ch1 / 58.32GHz,Ch2 / 60.48GHz,Ch3 / 62.64GHz
■ Ave EIRP 22dBm
■ EVM: -22 dB, NF: 6.5dB
Characteristic
■ IEEE 802.11ad SC PHY
■ Quad-core ARM Cortex A-53 CPU
■ Support MCS 1~9, BPSK,QPSK
■ Boot Rom/Internal SRAM
■ IEEE 802.11ad MAC
■ Video decoder supports up to 4K/30Hz
■ Power Consumption < 8W
Applications
■ HDMI over network for wireless dock for low latency display
■ Wireless Gigabit USB3.0 server
Interface
■ USB 3.0 x 1
■ HDMI 1.4 x 1
■ DC Jack 12V
Certification
---------------------------------------------------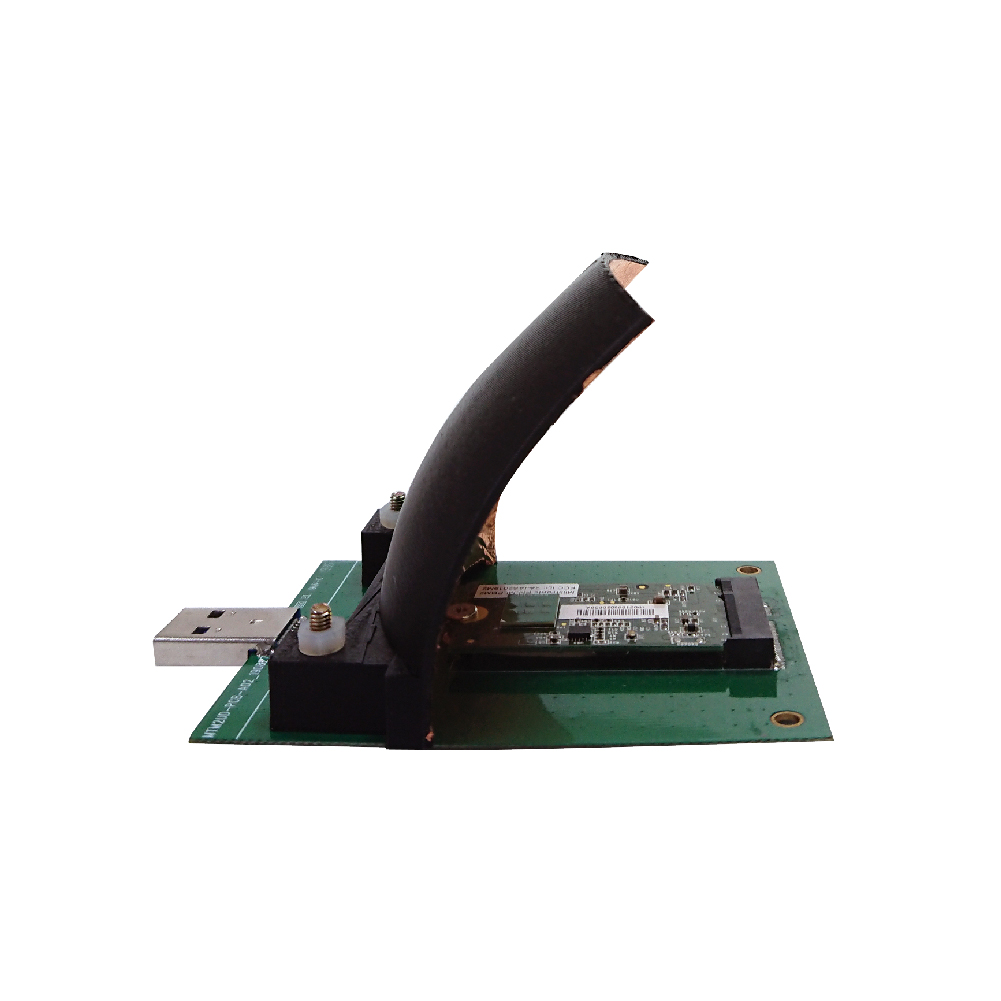 [MLPBM2D OVERVIEW]
The MLPBM2D powered by Millitronic
for Wireless Gigabit (IEEE 802.11ad)
networking, which includes radio
,baseband, feeding array, and
compact dish antenna with USB 3.0
interface.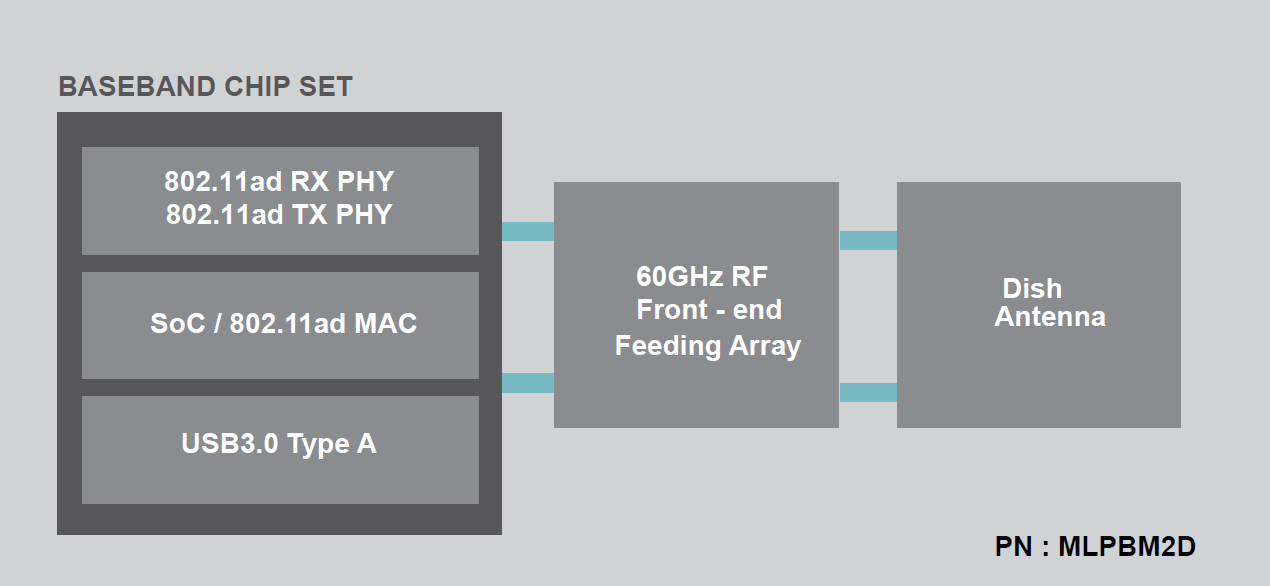 Feature
■ IEEE802.11ad compliance
■ Bi-direction communication
■ 1Gbps @ LOS 200 meters
■ Size: 95mm X 65mm X 62mm
■ Power Consumption <3W
Radio Front-end Characteristic
■ Operates 57~66GHz Direct conversion
■ Modulator/demodulator supports : MCS0~MCS9 (BPSK, QPSK)
■ Max EIRP 35dBm
■ EVM: -22 dB, NF: 6.5dB
■ Radio Power consumption
Baseband Chip Characteristic
■ IEEE802.11ad MAC,BB PHY ,AFE
■ Short A-MSDU,A-MPDU,A-PPDU
■ Soft MAC integrates WiGig MAC functions
■ DMG Block ACK,DMG link adaption
■ Authentication use WPA-2
■ M.2 B key interface. Supply 5V
■ DC power consumption 1.5~2W
Certification
FCC approved for indoor use
Phase Array
■ Peak Gain 25dBi
■ 3dB beamwidth 6 degree
Driver Support
■ Linux kernal 3.10-4.4 (AP/STA mode)
■ Support Windows 10