AZ launches latest wearable WBGT(Wet Bulb Globe Temperature) meter for those who need to pay attention to risk of heat stroke in hot weather or working environment. Contact the professional temperature data logger supplier now for quotation.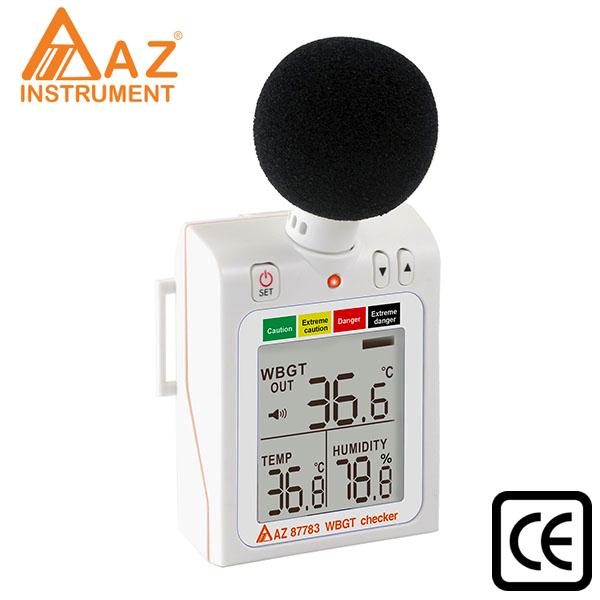 Features
*Simultaneously display WBGT, temperature & RH
*For outdoor & indoor heat stress measuring
*Programmable buzzer and red LED danger zone warning
*Audible alarm volume adjustable (75dB / 60dB / mute)
*4 level dangerous level indicator on LCD
*Wearable design with arm strap included
*Display updates every 20 seconds
Application
The 87783 AZ Wearable WBGT Checker can measure the air temperature, globe temperature, and humidity to give heat stress index for using in control of physical activity in hot environment to limit the danger of heat related injuries.

The Wet Bulb Globe Temperature (WBGT) was developed as a monitoring basis at US military training camps and became widespread for the use in workplaces and sports situations. The WBGT is a measure of the Heat Stress in direct sunlight.

It is suggested in an international standard ISO 7243 and many governments such as OSHA (US Occupational Safety & Health Administration), SMA (Sports Medicine Australia) and Japan Society for Occupational Health in establishing the permissible heat exposure limits in occupational health, sports or other physical activities. The applications of the heat index can be in construction, iron and steel foundries, bricks-firing plants, glass facilities, boiler rooms, mining sites, army training, marathon, beach activities and so on.

The 87783 AZ WBGT Meter has a small black ball, which could be carried easily. And the small black ball has a specific angle, so you would not need to worry about human temperature affect the meter's accuracy. The measurement by 87783 AZ WBGT Checker could be a good element for monitoring the outdoor activities and Prevent people to get Heat Stroke.

AZ 87783 Wearable WBGT Checker was being designed and manufactured by AZ Instrument, a well experienced manufacturer for Environmental Measuring.
| | |
| --- | --- |
| Model | 87783 |
| Temperature Range | 0~50℃ |
| Temperature Resolution | 0.1℃, 0.1℉ |
| Temperature Accuracy | ±0.6℃ |
| Humidity Range | 0.1~99.9% RH |
| Humidity Resolution | 0.1% RH |
| Humidity Accuracy | 10%~90% at 25℃. Typical 5% others 7% |
| Global Temperature (Inside Black Ball) | 0~70℃ |
| WBGT Temperature Range | 0~50℃ |
| WBGT Alarm Range | 20~50℃ |
| Black Ball Size | Diameter 40 |
| Stabilization Time | 15~25 minutes typical |
| Operating Temperature | 0~50℃ |
| Operating RH% | Humidity <80% |
| Storage Temperature | -20~50℃ |
| Storage RH% | Humidity <90% |
| LCD Size | 40(L) * 39(W) mm |
| Meter Size | 70(L) * 60(W) * 22(H) mm |
| Weight | ~90g |
| Battery | AAA*2PCS |
| Battery life | ~300 hours |
| Standard Package | Meter, Batteries, Manual, Paper Box |
With CE Certification