Taiwan Good Quality Plastic Clothes Hanger Mould
German & Japan imports mold steel only

Consistency in our work.

Eco Friendly, Green Production!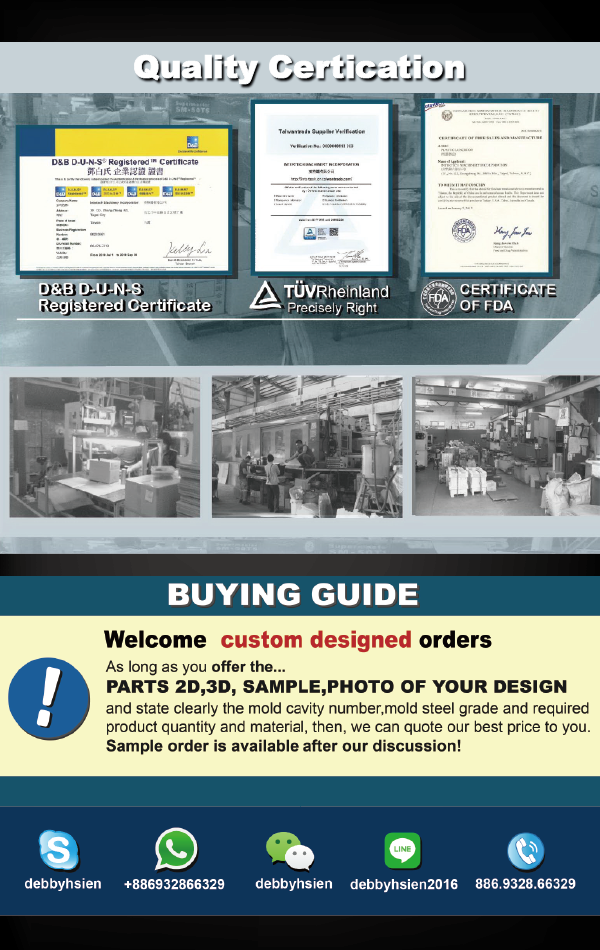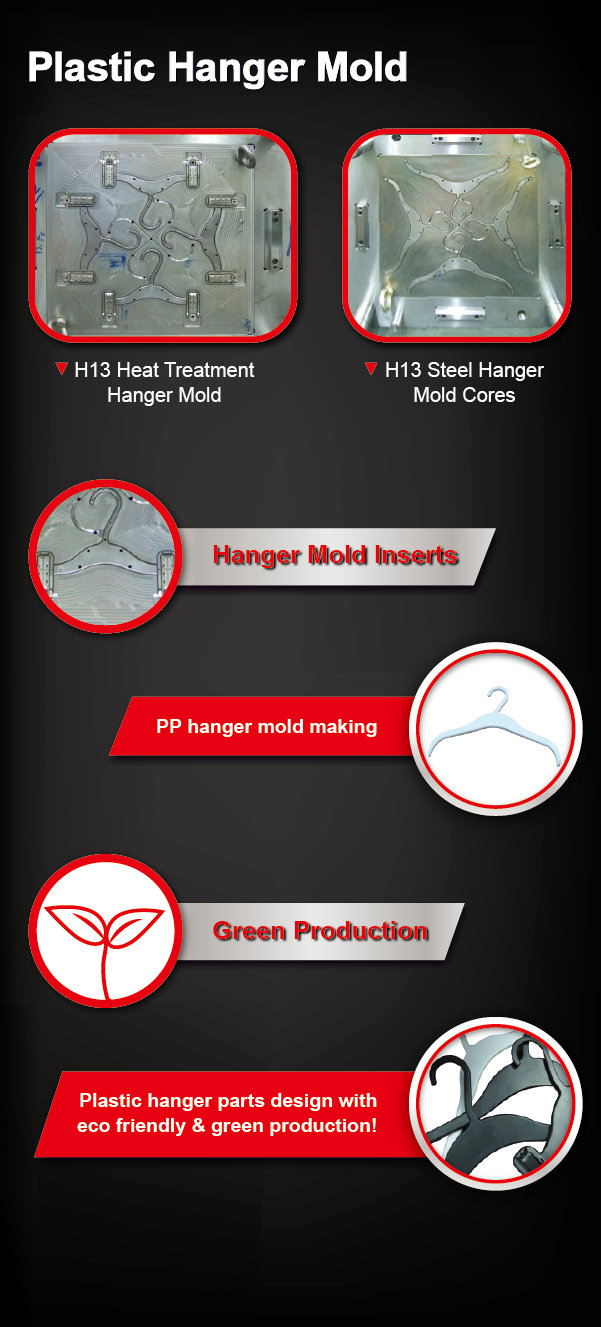 Hanger size : 28W x 17H cm
l Mold core & cavity material : H13 harden mold steel
l Mold base steel: S50C
l Mold size : 330x211x66mm
l Mold weight: 1400kgs
l Suitable injection molding machine size : 350T
German & Japan imports mold steel only
Eco Friendly, Green Production!
Intertech is specialized in plastic hanger mold more than 30 years. Our main products include plastic hanger mold, hanger mold, plastic clothes hangers, clothes hanger mold .We provide high quality products with good prices.

1. Can supply with both Mold & Molded parts
2. Provide Milled Prototype Making, Mold Design, Mold Making, Mold Testing, Molding, Products assembly...services
3. With more than 25 years experience, all of works are done 100% in our factory in Taiwan!
4. Low volumes / Small orders are welcome! Please contact us to discuss case by case.
5. Accept only OEM / ODM / Customer Projects. We do not have any existing molds for sell.
6. Mold building lead time: Around 40-50 days, with 1st Mold trialing report and Mold trailing samples

| | |
| --- | --- |
| | PS, ABS, PP, PVC, PMMA, PBT, PC, POM, PA66, PBT+GF30%...etc. |
| | Rubber, Silicone rubber, LSR, aluminum, zinc...Metal...etc. |
| | |
| | Non marking and Non flash |
| | According to your drawing |
| Color, Quantity, Unit price, Tooling cost, Tooling size: | |
| | Injection Mould, Plastic Mold, Overmould, 2k mould, Die-Casting Mould, Thermoset Mold, Stack Mold, Interchangeable Mold, Collapsible Core Mold, Die Sets, Compression Mold, Cold runner system LSR Mold,…etc. |
| | HASCO standard, European standard, World standard |
| | LKM, FUTA, HASCO, DME, etc. or as per customer's requirement. |
| | Texture (MT standard), high gloss polishing |
| | |
| | P20, 2311, H13, 2344, Starvax 420, 236, AdC3, S136, 2312, 2379, 2316, 2083, Nak80, 2767 etc. |
| | Single cavity, Muti Cavity, based on customer's requirement. |
| | HUSKY, INCOE, YUDO, HASCO, DME, MoldMaster, Masterflow, Mastip, Taiwan made brand…etc. |
| | (according to your working environment) |
| Design & Program Softwares: | CAD, CAM, CAE, Pro-E, Solid works…etc. |
| | High speed CNC, standard CNC, EDM, Wire Cutting, Grinder, Plastic Injection Molding Machine for testing mold from 50-3000T available. |
| | Standard exported wooden box packed, fumigation process (upon required) |
| | T1, 40~50 days, parts measurement report (upon required). |
| | |

About Us:
In short, Intertech (Taiwan) provides an extension integrated operational ability
from design to production of molds 100% made in Taiwan.
With the performance level in Taiwan, we satisfy our world customers with the best
value of mold making workmanship: customer design service; prototyping; mold making;
manufacturing process control; reverse engineering; customer molding & assembly...etc.
We manufacture plastic injection molds, die-casting molds, silicone rubber molds, liquid silicone rubber molds, LSR molds, rubber molds, press molds and hot runner molds (MoldMaster, MasterFlow, LKM, Incoe systems...etc).
We are particularly specialized in dealing with undercut molds, unscrewing molds, core pulling structure molds, high gloss polished molds, interchangeable core molds, hot compression molds, 2-component injection molds, and pilot molds for small series production...etc.
To know us more, please visit
Over 30 years experience, Intertech offers customers with intelligent and cost saving mold and molding solutions to their production need in Taiwan.
We can make the quality molds for your most complex parts and projects, including mold manufacturing, assembly, testing, and packaging.
With 30 years experience, we manage very well in contract manufacturing, including the material selection, customer design checking, engineering discussion, tooling, pilot run, mass production, post operations, quality control and supply chain management.
We have excellent mold making lead time, some molds 40 days, some molds even 35 days, up to your parts design.
Quick service: 100% in Taiwan
Mold making
Injection molding
Tool and die making
Tool and die production
DFM
Mold flow
Conform your Industrial engineering to tooling engineering
project management by experienced engineers
Engineering discussion is available