Stainless Steel Ship Hardware Door Handle Parts:
Material: 304 and 316L Grade Stainless Steel / First Grade
Size: Length: 190mm, Width: 75mm, Heigh: 55mm, Thickness: 15-17mm
Purpose: Ship Hardware Parts
Casting Product Line:
We mainly produce any kinds of casting parts, that means included valve, mechanical parts, and also servomotor body.
For functional industry uses:
Aeronautics and space
Consumer-oriented
Devices for Automation
Food
Mechanical
Medical equipment
Military Arms
Petrochemical
Transportation Vehicles
CNC Machining Service:
We are professional performance in metal and non-metal casting, and as well in CNC machining and mould creating.
Inspection Equipment:
Hardness Tester
Spectrometer
Image measuring instrument
Binocular stereo microscope
Eccentric Inspector
More Products:
1. Stainless Steel Casting Auto and Food Parts
OEM Car Parts such as Exhaust pipe, Exhaust gasket, and Retrofit kit.
OEM Food Parts such as Food Processor, Wheatgrass Machine, Stirrer, Luxury Tableware and Beer Faucet.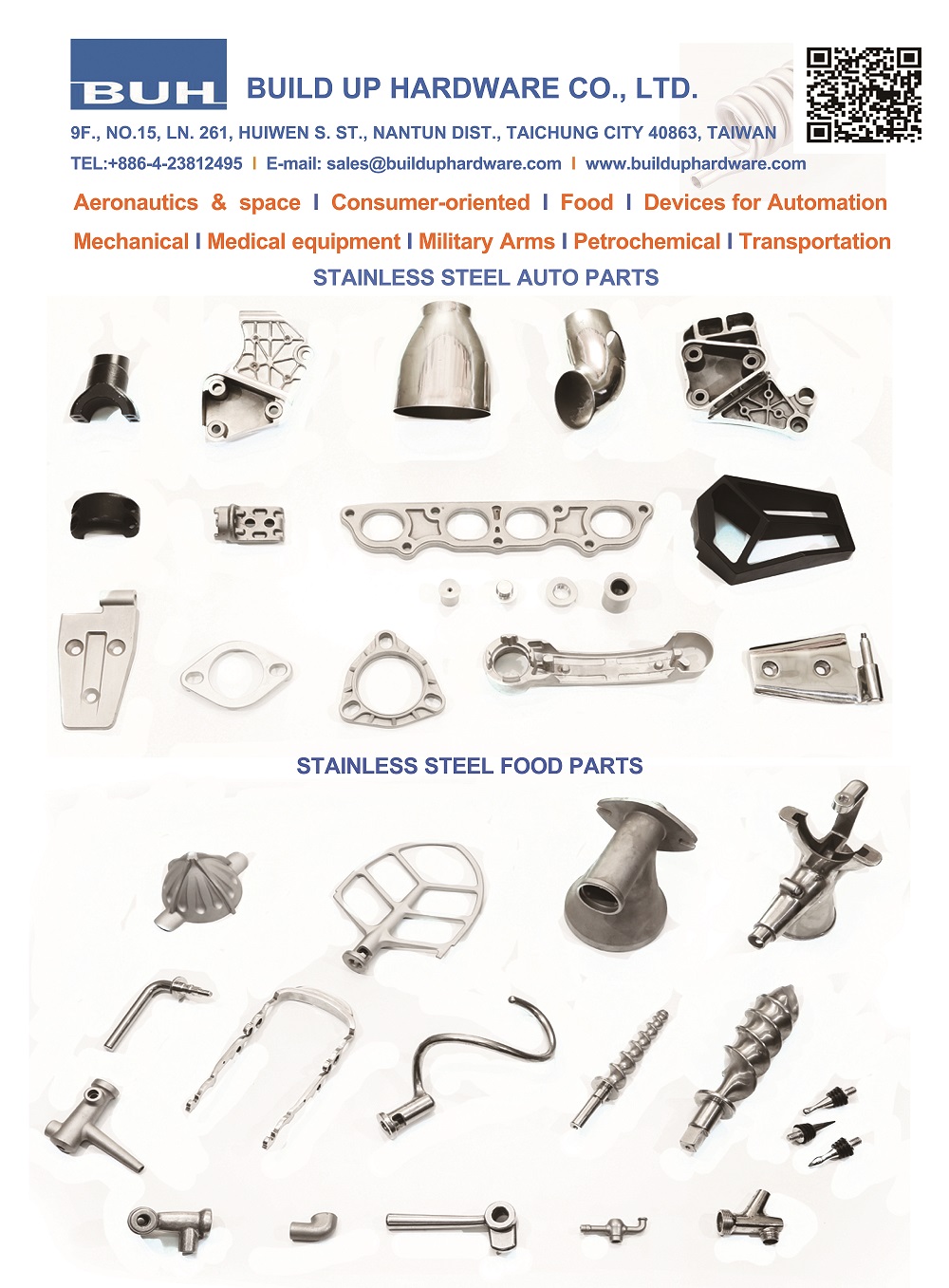 2. Stainless Steel Casting Hand Tool and Medical Parts
OEM Hand Tool Parts such as Nail Puller, Hammer and Sleeve.
OEM Medical Parts such as Medical instruments, Hemostat and Stethoscope.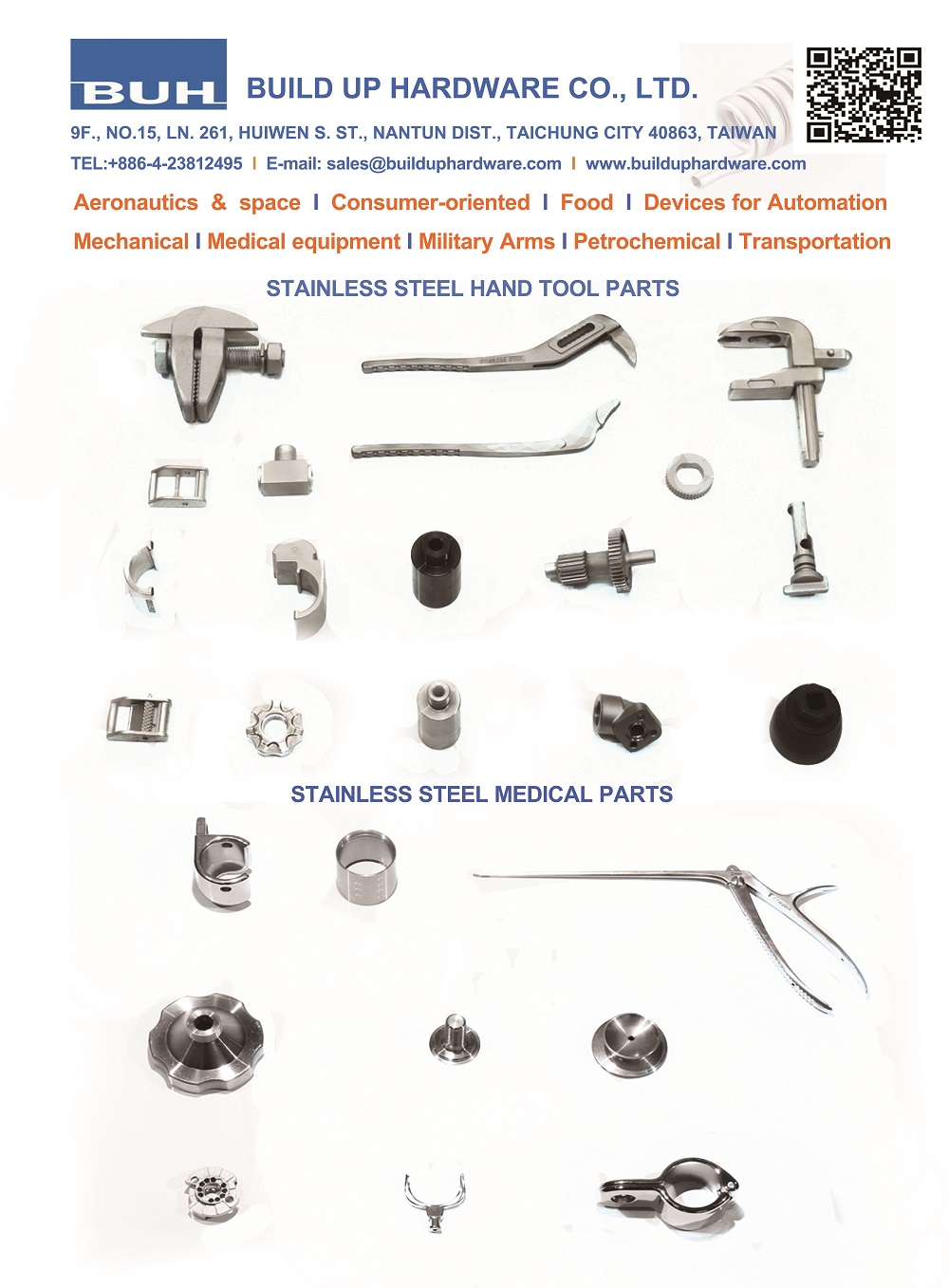 3. Stainless Steel Casting Pumping Parts
OEM Pumping Parts such as Vane Pump, Pump Body and Bearing Housing.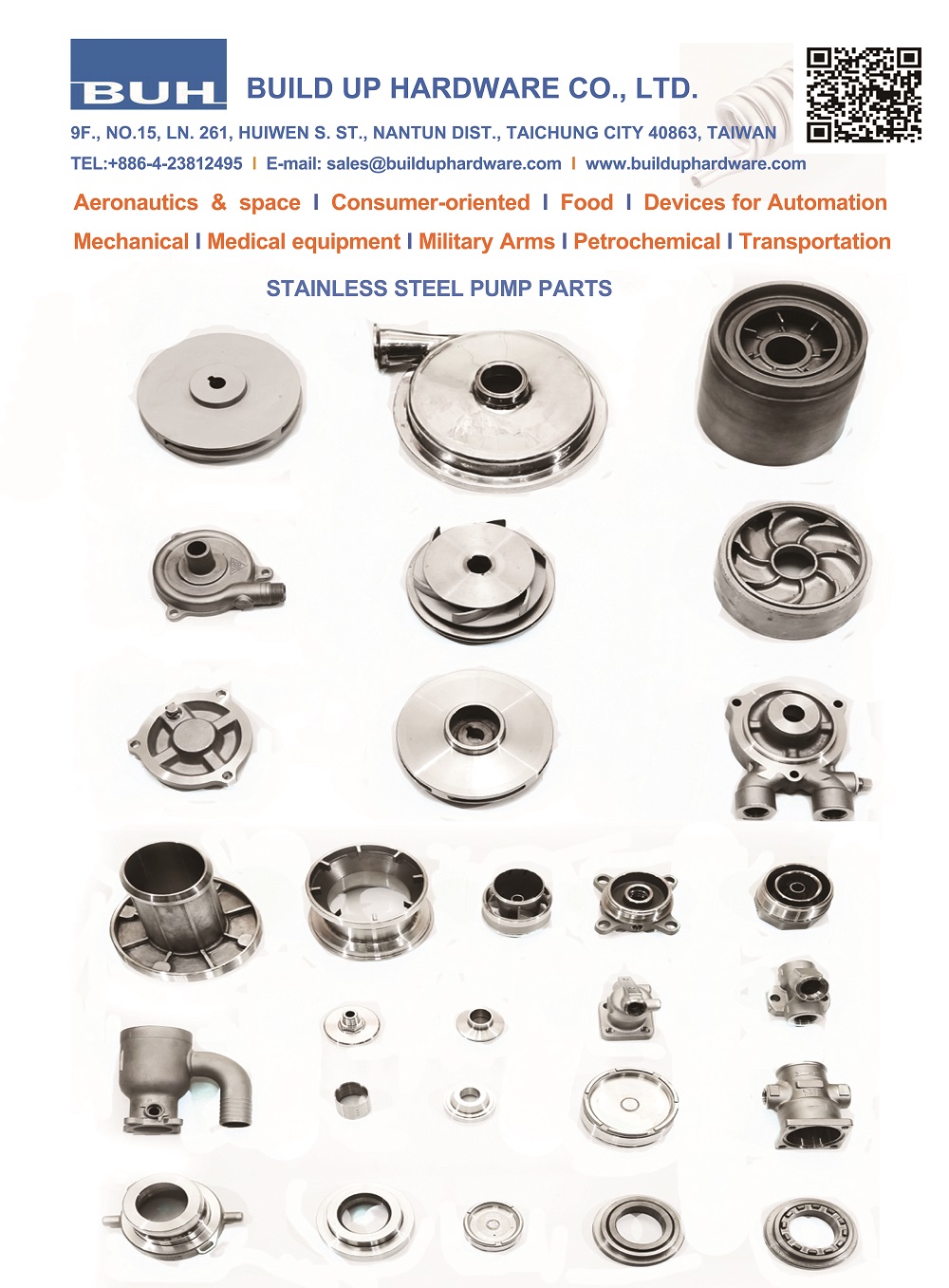 4. Stainless Steel Casting Valve and Other Parts
OEM Valve Parts such as Check Valves and Stainless Steel Handle.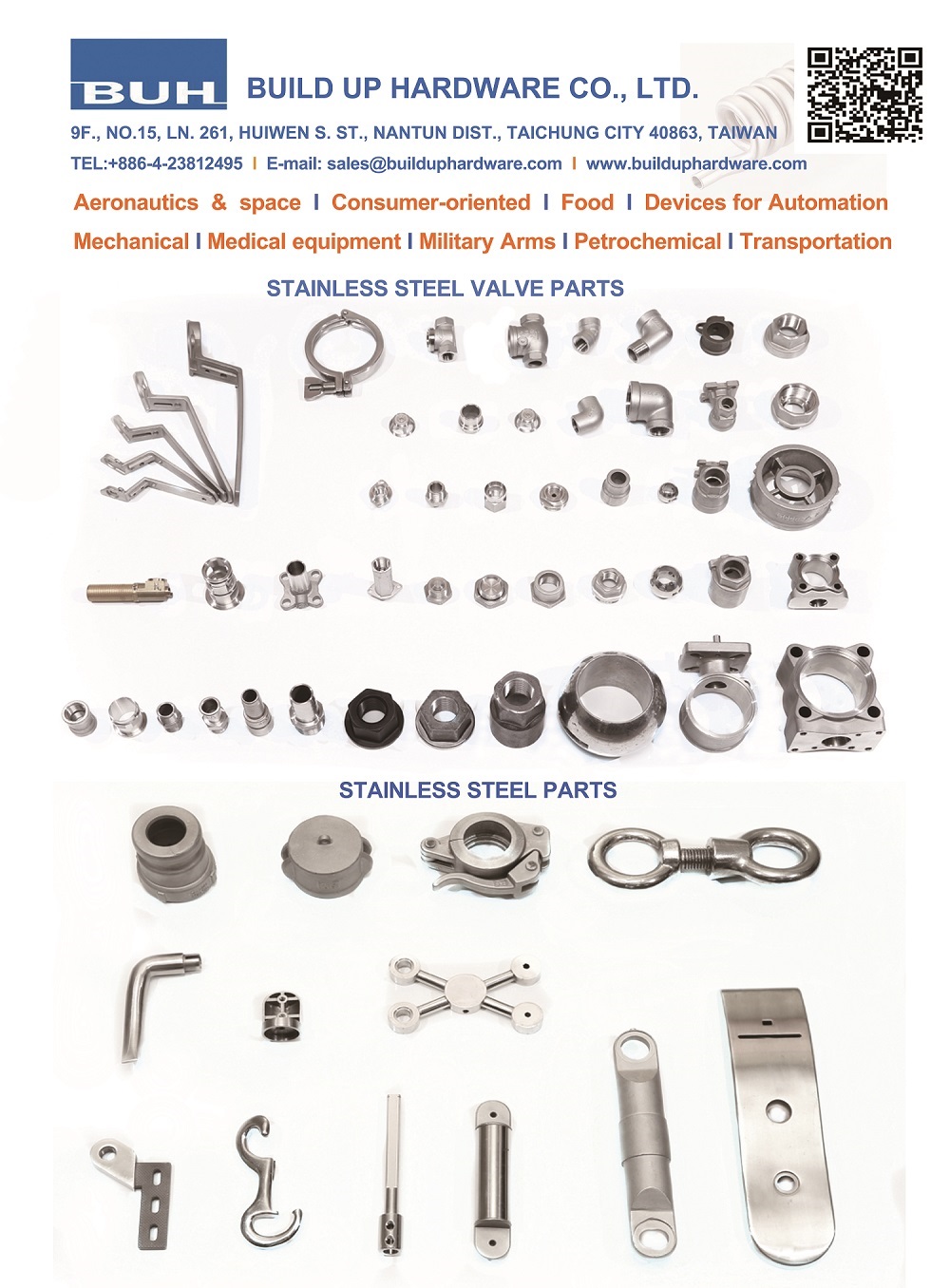 Foundry Equipment
Wax injection machine
Mixer
Sintering furnace
High frequency furnace
Quicksand Barrel
Lost Wax Machine
Equipment
X-axis Travel 190 + 50mm
Z-axis Travel 610mm
Spindle Speed (opt.) 2500rpm
Max. Spindle Motor Power 15kW
X-axis Travel 275 + 30mm
Z-axis Travel 855mm
Spindle Speed (opt.) 2500rpm
Max. Spindle Motor Power 22kW
Stainless Steel Casting Processing Procedure:
Was Pattern Injection
Trim the parting line off
Pattern assembly
Fluid dipping
Dewaxing
Pouring
Sand blasting
Cutting
Grinding
Refinement grinding
Appearance Inspection
Heat treatment
CNC turning lathe
Vertical machining center
Appearance inspection
Hardness test
Material inspection
Metallurgical examination
2.5D Optical Instrument
Shipment delivery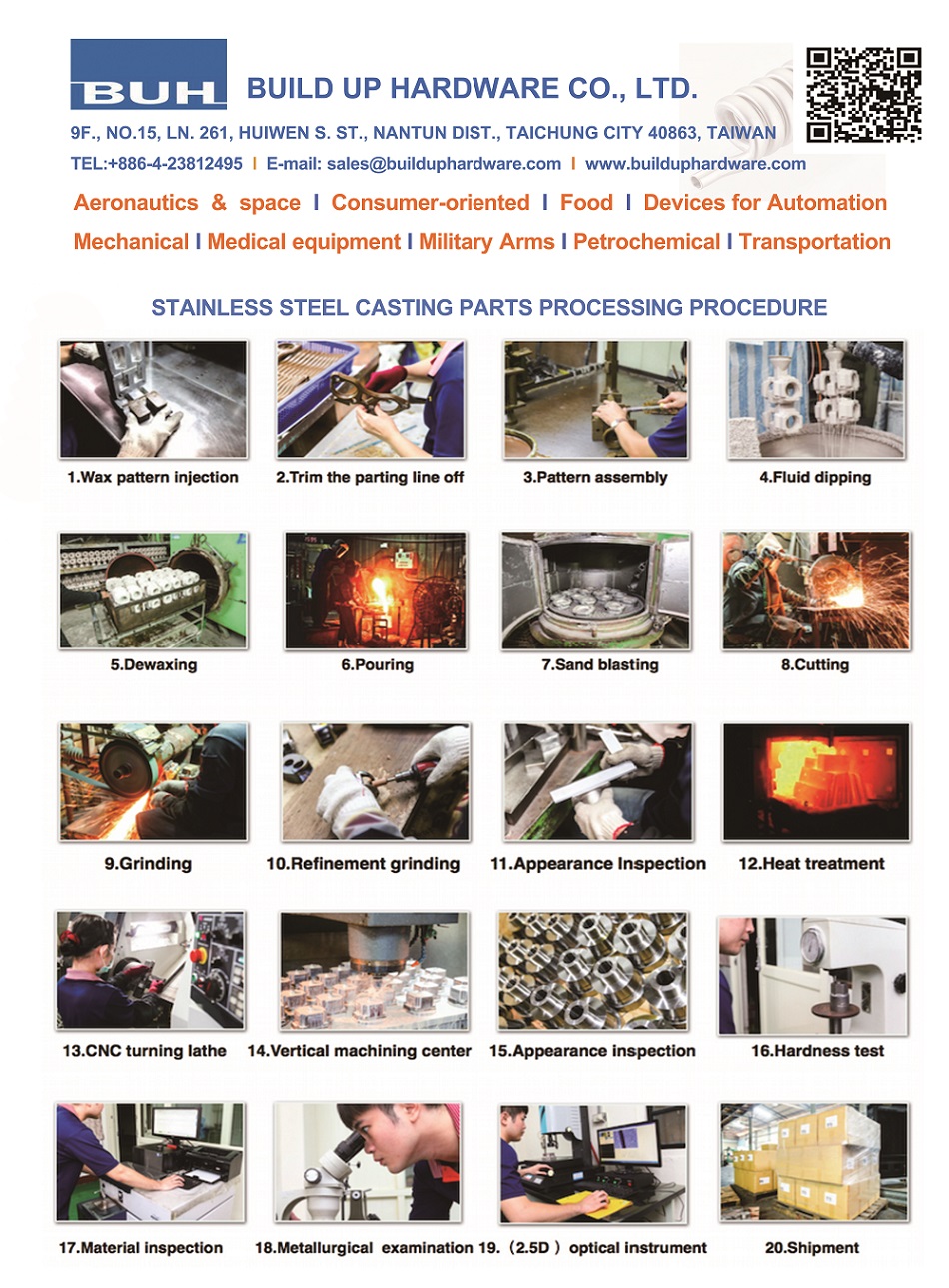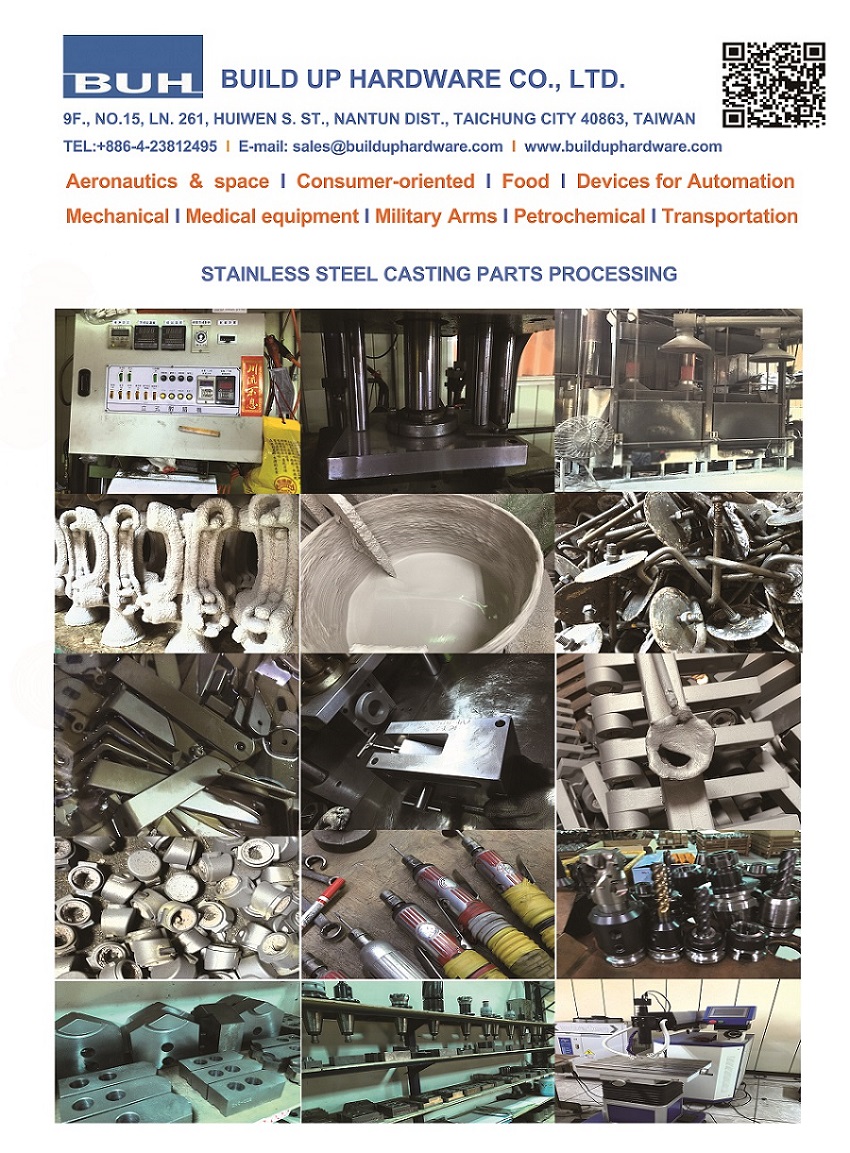 About Us:
Build Up Hardware Co., Ltd. was established in 2010. Mainly engages in manufacturing and trading of all kinds of Stainless Steel Tube and Materials and all kinds of casting of OEM and ODM parts, including mechanical parts, valve, servomotor body, with great flexibility of any quantity for custom made.
In addition to high quality products and the best service, we differentiate ourselves through the following advantages:
- Complete product line
- Top grade materials
- No MOQ
- Small quantity for OEM order is acceptable
- On-time delivery
- Competitive price
Products Range
We produce of: Stainless steel (TIG) welded tubes and Round Perforated tubes.
Our company mainly produce (TIG) welded tubing we have welding machine, polishing machine, and cutting machine to produce round tubes, square tubes, rectangular tubes and perforated round tubes use at automobile industrial of exhaust system in a very competitive price for foreign client around the world. The grooved tube use in a wide range, such as furniture leg, railing system, street lighting or any decorative design.
Processing Abilities
Bending, Grinding, Edge conditioning, Edge trimming, Coil plate Forming and Rolling, Precision Plate Sawing, Punching, Sawing, Shape cutting, Threading, Drilling, Assemblies, Polishing, Fabricating, Cutting to length with various angle, Beveling and Welding.
Best regards,
Emily Lin
BUILD UP HARDWARE CO., LTD
9F., NO.15, LN. 261, HUIWEN S. ST., NANTUN DIST., TAICHUNG CITY 40863, TAIWAN
TEL: +886-4-2381-2495
FAX: +886-4-2381-2496
E-mail: sales@builduphardware.com