Perfluoropolyether PFPE Fluorine oil filter regeneration
Fluorine oil is name for Per-Fluororated Poly Ethers (PFPE), known as
perfluoropolyalkyl (Per- Fluoro (Poly) Alkylether, PFPAE, (PFAE)).
Perfluoropolyether is the most expensive oils. However, perfluoropolyether
special advantage is it can be recycled and the cost of regenerated
perfluoropolyether is greatly reduced. This information is from Wikipedia.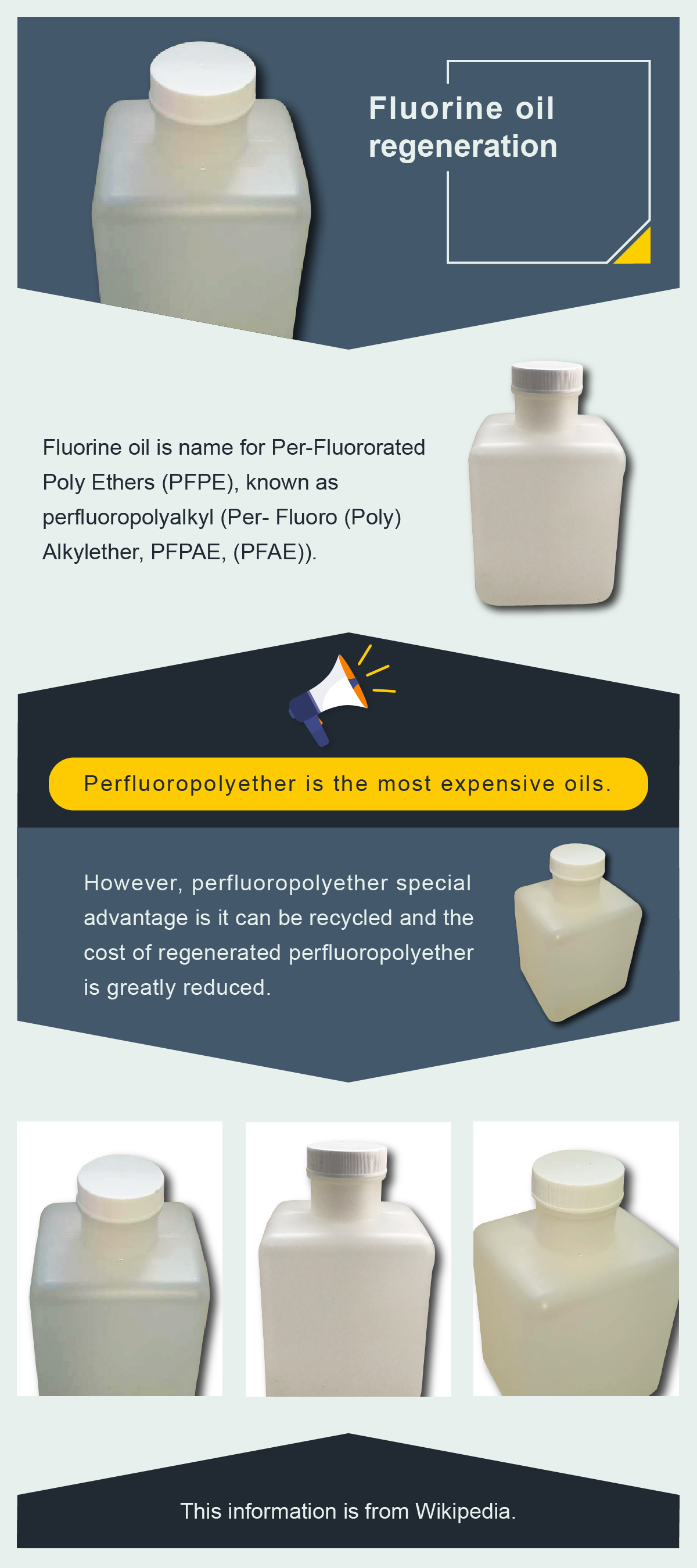 Choose CHENG-Y to solve all the problems you have encountered on vacuum pumps!
We sell used vacuum pumps, vacuum pump parts and consumables kits, repair tools and tools, and have vacuum pump warranty and precision machining and technology transfer capabilities to serve all industrial customers who use vacuum pumps. When the vacuum pump in your equipment fails, you can quickly replace the suitable used vacuum pump or purchase spare parts and consumables with CHENG-Y, with detailed and detailed technical manuals, exclusive tools, tools and quantities. The measuring instrument can immediately repair the vacuum pump by itself, which saves time and cost compared with purchasing new products or repairing the original factory.
The founder of CHENG-Y was engaged in the field of industrial equipment and trade in the early years. He has been focusing on the research of various brands and models of vacuum pumps in various countries. For more than ten years, he has been deeply aware of the importance of vacuum pump maintenance and repair. Moreover, we insist on innovation, talent-oriented, and integrity. The second-hand vacuum pumps, spare parts and consumables sold are strictly tested, with stable performance and excellent quality, which can improve the stability of customer's product process and create high yield. Through professional maintenance parts, precision machining, tools and technical manuals, we will educate our customers on how to guarantee their own warranty. We also represent foreign well-known vacuum pump brands for a long time to meet the needs of customers who need to purchase new products.
CHENG-Y MATERIAL purchase internet site:
Products are online, if you have any questions, please contact us.
E-mail:cheng-y@hibox.hinet.net