Luxurious Perfumed Spray for Refresh Feeling and Enjoyment. Mild Ingredients with Perfumes from France. Feel Like Eau de Toilette, Use as Scented Spray Air Refresher Anytime When Needed. Explore the Scents of Ocean, White Musk, Bergamot Rum, Rose, Jasmine Pepper, Apple Sandalwood, Sky, and Ocean Musk.
No.802 Ocean Musk-Lemon.Aqueous.Cedarwood.Musk
No.803 Bergamot Rum-Bergamot.Rum.Apple.Vetiver.Wood.Leather
No.806 Rose Musk-Violette.Rose.Musk
No.804 Jasmin Pepper-Pepper.Nutmeg.Jasmine.Patchouly
No.808 Apple Sandalwood-Grapefruit.Apple.Nutmeg.Vetiver.Sandalwood
No.202 Ocean-Rosemary.Lavender.Eucalyptus.Musk
No.203 Sky-Mint.Bergamot.Vetiver.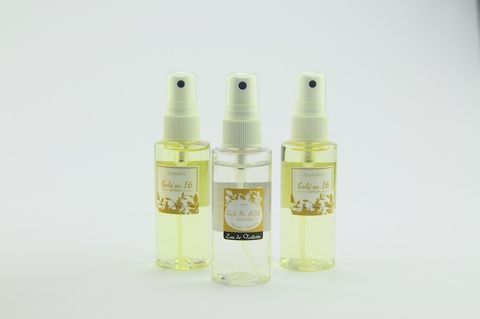 To Use: Spray when you like to enjoy the refreshing air.
Ingredients: High Quality Perfumes from France, Aqua, and Alcohol.
Refreshing feeling with the scents of luxurious enjoyment.
More pack size available: 7 ml, 20 ml, 60 ml, 80 ml, 250 ml, 1000 ml, or other size. Please contact us if other pack size or customized label can be arranged.