1.The Best Toothpaste for Bad Breath INTELLIGENT Whitening Toothpaste Fluoride Free. Teeth Whitening Toothpaste for Smokers. The taste is mild and not irritating. After brushing the teeth, the mouth is comfortable and the breath is fresh.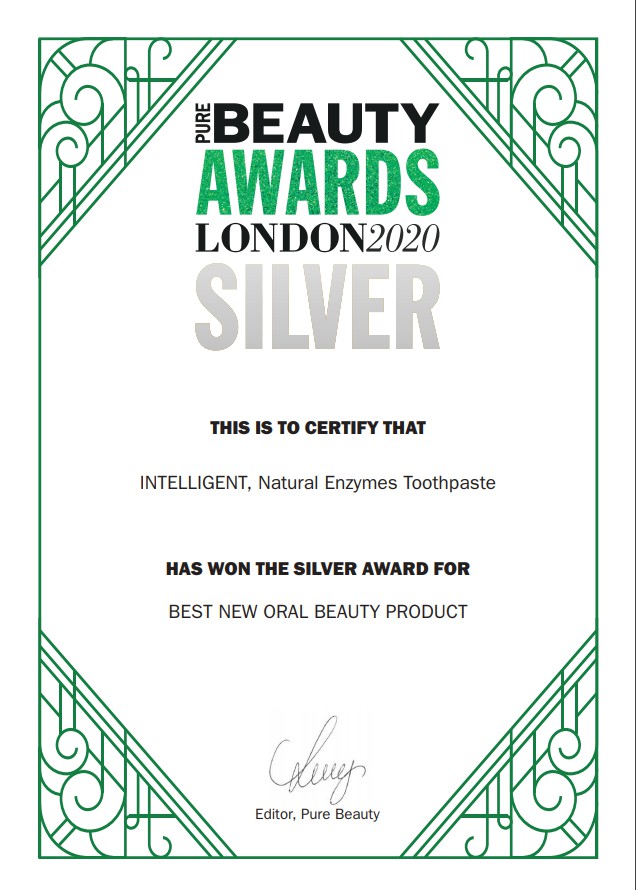 Award history of our products and company
2002- National Consumer Excellence Award by Consumer Org.,
2004- Creative New Product Award by Formosan Medical Association
2006- Creative Product Award by TAITRA
2008- National Quality Trustworthy Product Award by CHC
2011- Outstanding Natural Unit Award by International bioenergy academic Summit
2013- Intelligent series of products has been specitically appointed and promoted by UNMPCC
2020- Intelligent Natural Enzymes Toothpaste won "PURE BEAUTY
AWARDS LONDON 2020 SILVER
Toothpaste Contrast

INTELLIGENT

Colxx

Senxx

APxx

Mxx

Bad breath

V

V

V

V

V

Dry mouth

V

Oral ulcers

V

Periodontal disease

V

V

V

V

V

Sensitive teeth

V

V

V

V

V

Whitening teeth

V

V

V

V

V

Oral mucosa comfortable

V

Toothpaste safe

V
Agents and Distributors Wanted
Cooperation Advantage
Unique and Professional Formula
Complete Product Line
Products Educational Training
Sales Training
Marketing support for market and sales channel development
Marketing support for brand promotion
Welcome the cooperation of co-branded brands!
Translation:
1.This toothpaste is not minty for children, my child doesn't resist using this toothpaste.
2.Yellow stains on teeth are also very easy to be cleaned.
3.It can soothe my sensitive teeth.
Translation:
The babies, who can not brush their teeth by themselves, can chew QQ brush to clean their teeth. It's a real great product!
Q: Why should we choose INTELLIGENT?
A: INTELLIGENT is specialized in the oral hygiene products over 18
years. We are a trade assurance supplier on taiwantrade.com.
We promise that we can provide :
e. Unique (high quality and unique toothpaste can be left a
good & unforgettable impression.)
Q: Can I get the sample?
A: Yes, you can. We can provide you with special price samples.
Q: How can I be your distributor or agent?
A: We are looking for an agent already has
(a) business registration certificate
(b) established sales channels in toothpaste market or
Q: Can you print my logo on the tube and box?
A: Yes, we can provide you with your personal logo on the tube and
Q: Can I have other size of toothpaste?
A: Yes, we can provide other size of toothpaste.
Q: Why do people use dry brush?
A: INTELLIGENT enzyme toothpaste does not contain blowing agent,
so people do not need to wet the toothbrushes, dry brush can
make their saliva secretion. If using water, it will be diluted
ingredients and the effect will be decreased.
Q: How to contact us?
A: Please leave messages below. We will contact you within 24