XCS-M
Weighing specifications
2T x 0.5Kg
Fork specification
Length: 115cm
Raised to the highest height: 20cm
The lowest height: 8cm
XCS-L
Weighing specifications
2T x 0.5Kg
Fork specification
Length: 121cm
Raised to the highest height: 20cm
The lowest height: 8cm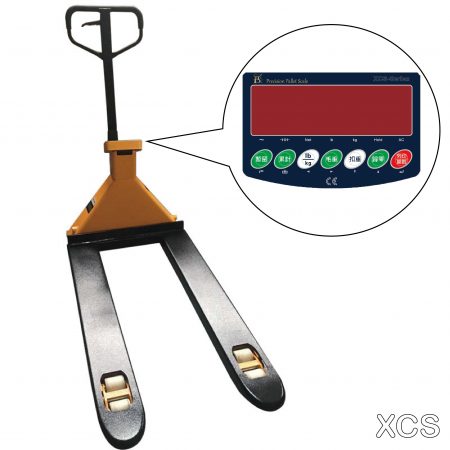 【PRODUCTS】
The combination of the pallet truck and the scale becomes a hydraulic pallet truck scale, which enables the handling and over-weighting to be completed at one time, saving manpower and time without over-loading, thereby improving work efficiency.
GRACC special spraying scale body with derusted and descaled steel plate. High-quality epoxy zinc-rich anti-rust primer sprayed twice with anti-UV outdoor plastic powder.
Unique weighing platform and the load cell connection mechanism ensure that the weighing platform is stable and does not sway, and it is not loose for a long time.
High-quality polyurethane material moving wheels, cushioning impact resistance, excellent wear resistance and toughness.
High-quality rim, flexible movement and steering.
Cylinder can be filled with high quality hydraulic oil, which can be normal use in the temperature environment of -20 ̊C~+50 ̊C.
Impact-resistant alloy steel high-precision load cell *4 and digital signal combination box *1 group.
LED display with word height 30MM subtitles.
Full charging can be used for about 90 hours (6V, 4.0Ah)
HD precision and L/C sensor.
Unique checkweighing mode setting, with zero return, deduction, gross weight, cumulative, etc.
Built-in RS-232 interface output. Thick painted surface with strong rust resistance.
Available in Kg, lb weight unit.
The surface of the fork is 53 mm thick and the thickness of the fork plate is 4 mm.
Optional wireless label printer; Bluetooth wireless transmission computer.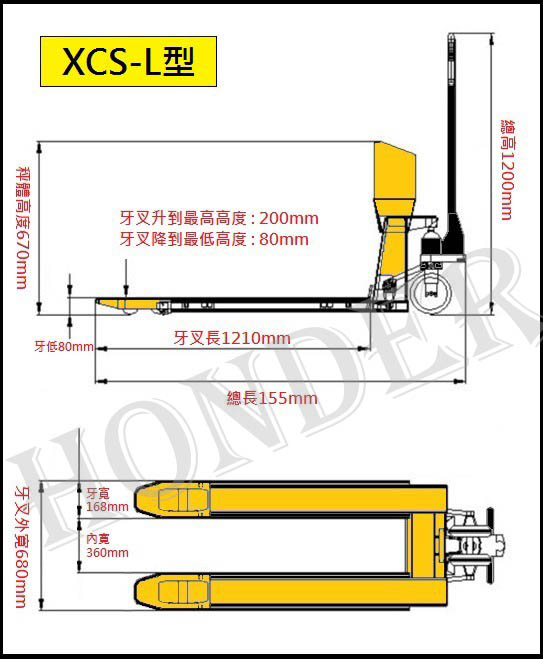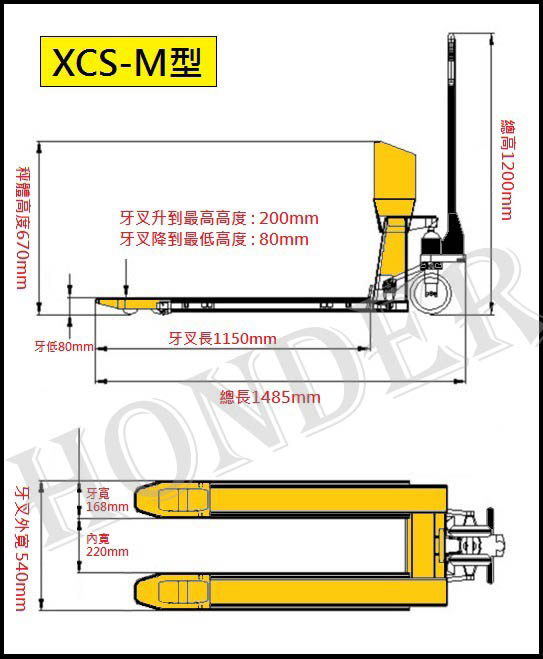 Honder Weighing Scale Co., Ltd (Former Derher Weighing Scale Co., Ltd) was founded in 1979. Honder has more than 30 years experience in weighing industry. We are the manufacturer that specializes in producing many applications of scales, such as industrial, commercial, lab, and household.With the long-term experience and the belief of "Professional, Quality, Integrity, and Serviceable" Honder is now focusing on R&D, OEM, ODM service and products to the Manufacturers and Importers worldwide.