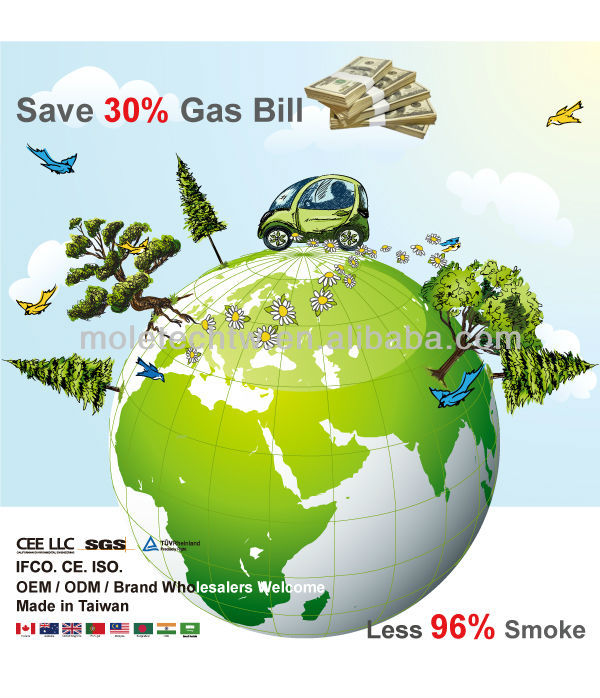 1. Tested by TUV, SGS, California CEE
2. Save up to 10% on Diesel
3. Reduce emissions
5. Increase Horsepower & Torque
6. Last for 10 years

Greentech fuel saver "D11" is suitable for all kinds of Diesel cars and trucks which the tank capacity is less than 100 liters (26 gallons).
Reduce Exhaust Emissions
Increase Horsepower & Torque
Lasts for 10 years

Greentech Fuel Saver has been tested in over 400 private vehicles with a result of over 10% positive fuel reduction. We double-checked our results by sending our Fuel Saver to California CEE (USA EPA and CARB certified testing center), TUV Rheinland Group (Worldwide technical service), and SGS (Worldwide testing company), all of whom verified and supported our research and development data of up to 15% savings on Petrol vehicle and up to 10% savings on Diesel vehicle. Greentech Fuel Saving Device can be fitted into all kinds of vehicle with no need to modify the vehicle and will not affect the vehicle warranty. Moreover, it can last for more than 10 years.

Greentech Fuel Saver applies molecule technology to break the van der waals force between the gasoline molecules and change the aggregation of molecules from larger molecule cluster to smaller ones or even single molecule. Molecule technology is a physical reaction and does not content any chemicals or catalysts. It can reduce the fuel consumption and emissions, increase the horsepower and torque, and help the engine run smoother. According to research and testing studies, the surface tension of the treated fuel was decreased; causing the smaller droplets, exposing larger surface area in the air, contact with oxygen for better combustion reaction, and hence, better fuel efficiency.
We now have sole distributors in the United States, Canada, United Kingdom, Australia, and Malaysia. Also, the product has been tested and accepted by UK National Grid in 2012.

Fuel Consumption Test:
TUV Rheinland - 14.3% Fuel Saving
(2005 Ford Escape)
California Environmental Engineering (CEE) - 12% Fuel Saving
(2005 Toyota Camry)
California Environmental Engineering (CEE) - 10% Fuel Saving
(2005 Kenworth-W9 heavy-duty truck with CAT 472 diesel engine)
California Environmental Engineering (CEE) - 10% Fuel Saving
(2000 Kenworth-W8 heavy-duty truck with CAT 472 diesel engine)
SGS - 10.68% Fuel Saving
(Mercerdes-Benz)
TVBS News Report with Road Test - 28% Fuel Saving
(90cc Scooter)

FTP-75 Emission Test:
2005 Ford C224-6HA - Reduce Emissions 20%
2003 Toyota Corolla - Reduce Emissions 16.67%

Smog Check (IDLE) Test:
Department of Environmental Protection, Taipei City Government - Reduce IDLE Emissions 89.50%
(1996 Toyota Corolla)
Department of Environmental Protection, Taipei City Government - Reduce IDLE Emissions 86.48%
(1996 Honda CR-V-GX)
Chun Yuan - Reduce IDLE Emissions 96.85%
(2003 Toyota Corolla)
Australia, Autotech Engineering - Reduce HC 97%; Reduce NOx 62%
(Ford AU LPG Taxi 6cyl)

Dyno Test :
Dyno Tune Centre Test Result - Ford BA 6cyl Turbo
Dyno Tune Centre Test Result - Ford AU LPG Taxi 6cyl