Do you experience itching or irritation on the body and face?
Discover our eco-friendly coral skin care products!
What special is it about?
A new generation of repairing and soothing essence from coral miracle ingredients is added—Laboral XB2® —delivers a boost of soothing, hydration and radiance. Active protection that blends with the skin well.
Which Skin type is it good for?
✔ Eczema-prone
✔ Sensitive
✔ Dry / very dry
✔ Normal
✔ Combination
Tested by the German Dermatest® in terms of long-term human clinical test, the most stringent certification of 5-star for the product safety and efficacy:
a. Improve skin moisture by 110.50 %
b. Decrease trans-epidermal water loss by 34.60 %
c. Alleviate lichenification, dryness and desquamation of atopic prone skin.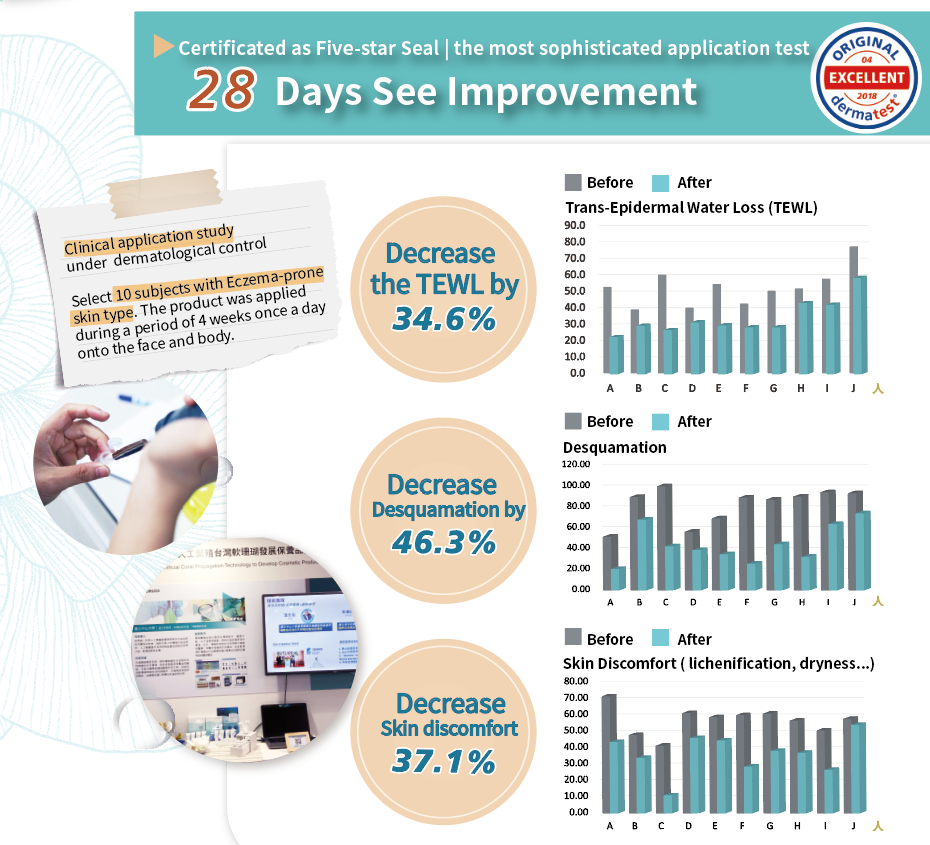 Solutions for:
- Dryness
- Itchy
- Visible irritated areas
A Gentle Formula:
-Formulated without paraben
-Fragrance free
-Suitable for babies, children & adults
Directions:
1. Use to sooth and nourish dry skin, sensitive skin, itchy skin and visibly irritated areas on the skin.
2. Helps to strengthen skin's moisture barrier
3. Can be applied to both face and body.
4. Apply liberally daily to cleaned skin as often as needed.
5. Avoid eye area.
6. Discontinue if irritation to skin appears.
Key ingredients:
Briareum excavatum extract, Butyrospermum Parkii Butter, Dipotassium Glycyrrhizate, Helianthus Annuus Seed Oil, Niacinamide, Panthenol, Sodium hyaluronate, Sodium PCA, Tocopheryl Acetate
What else you need to know about ForCean Coral Calm® Series
During a series of marine researches, coral's magical ability of regeneration is discovered by accident. After countless experiments, the key components of coral that are quite rare are discovered.
However, with environmental changes and human activities, corals are about to disappear. A group of scientists, adhering to the idea of coexistence with and sharing of the marine essence. Carefully care for corals to retain the miracle through innovative AI-aquaculture techniques.

After the continuous improvement, a new generation of repairing and soothing essence "Laboral XB2®" is finally created in 2018. Laboral XB2® can soothe the skin, dry, itching, and maintain healthy skin. The journey of exploration is not over yet, let's experience the miracle of the ocean together.

Our Certificate & honors:
2019 Monde Selection Gold Award
2019 The final list of the Pure Beauty Global Awards(UK)-Best New Skin Care Treatment.
Coral Calm® Series- Skin Coral Ultra Soothing Hydrating Lotion and Moisturiser- pass through the German Dermatest® in terms of long-term human clinical test, the most stringent certification of 5-star for the product safety and efficacy.
13th National Innovation Award (Taiwan)
20th Moscow Archimedes International Invention Exhibition Golden Medal Award (Russia)
2017 Women Inventors Association "NOVA" Bosnia and Herzegovina special award
2017 Future Tech Award (Ministry of Science and Technology, Taiwan)
Products are tested by SGS ( Click for more information on SGS safety net):
Qualitative analysis of 360 Chemicals for clinical use
Detection of eight heavy metals and seven plasticizers
Detection of four major microorganisms/mold and yeast