Product model:AIRJNISE-05
Product material:Goose feathers
Recommended price: NT 415
Using goose feathers, high durability and stability
Flying test: B+
Speed test: B
Durability test: A
Suitable for players' training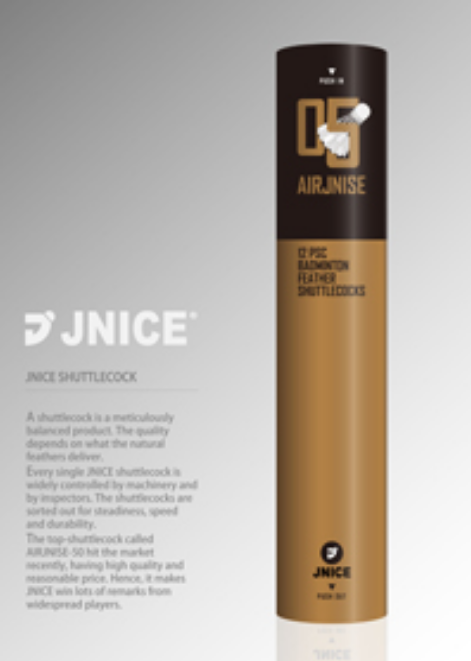 Shuttlecock is an indispensable role in badminton. Badminton is the influential factor in the shuttlecock feather quality and structure.
A shuttlecock is a meticulously balanced product. The quality depends on what the natural feathers deliver. Every kind JNICE shuttlecock is widely controlled by machinery and by inspectors. The shuttlecock are sorted out for steadiness, speed and durability.
Shuttlecock is usually made of duck feathers or goose feathers. The shuttlecock used in top races is also goose feather. The advantage of goose feather ball is that it is not easy to break and the flight is stable. It can ensure the flight speed is stable and the flight path is good. The shot is accurate and sound. Crisp and solid sense of hitting, allowing players to fully play the hitting technique, in addition to JNICE's use of goose feathers to provide 7 different levels of shuttlecock, AIRJNISE-05 is suitable for normal training, but also coach love to use it.