Factory Direct DIY Non Toxic Sculpture Wood Clay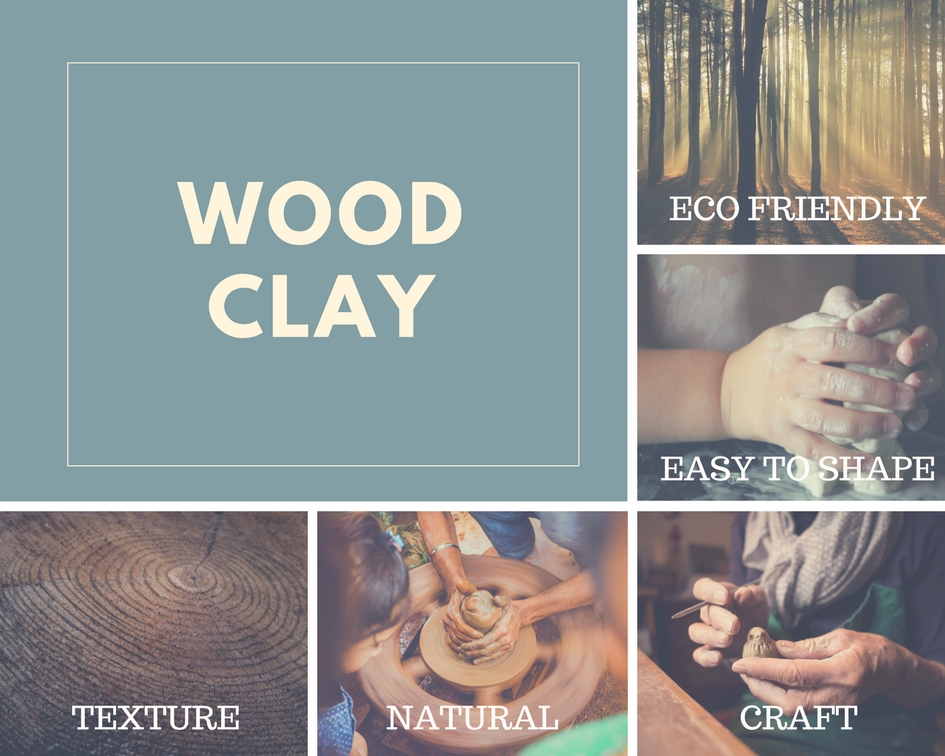 When you hear about clay, most people usually think of air dry clay, light air dry clay, oily modeling clay.But this time it is not to introduce those, but woody clay. literally It can be seen that its color is similar to that of wood. It smells like wood, and it feels like a real wood. It can be used for woody works such as trees and wooden baskets. After being able to show the texture of the texture of wood, after being colored, it can better achieve the desired beauty of certain natural artworks. Wood clay can be combined with environmentally friendly materials to complete large-scale works of art.
Wood clay is a water-based clay. It is light weight and feels like real wood. Once dry,it can be decorated with acrylic paints or watercolors. the following are the properties and descriptions of wood clays:
✦ Wood Clay is water based clay.
✦ 200g packed in a plastic bags.
✦ Color: Terracotta.
✦ Non-toxic.
✦ Air-hardening.
✦ Like real wood texture.
✦ Light weight with a rough texture.
✦ It can be decorated with acrylic paints or watercolors.
✦ Can be Christmas diy set or gift.
✦ 50% T/T deposit.
✦ ODM/OEM.
✦ Min order: 1,000 pcs.
✦ Delivery Lead Time: 45-60 days.
✦ Pass test report EN71 part1.2.3 &ASTM D4236.
Product Description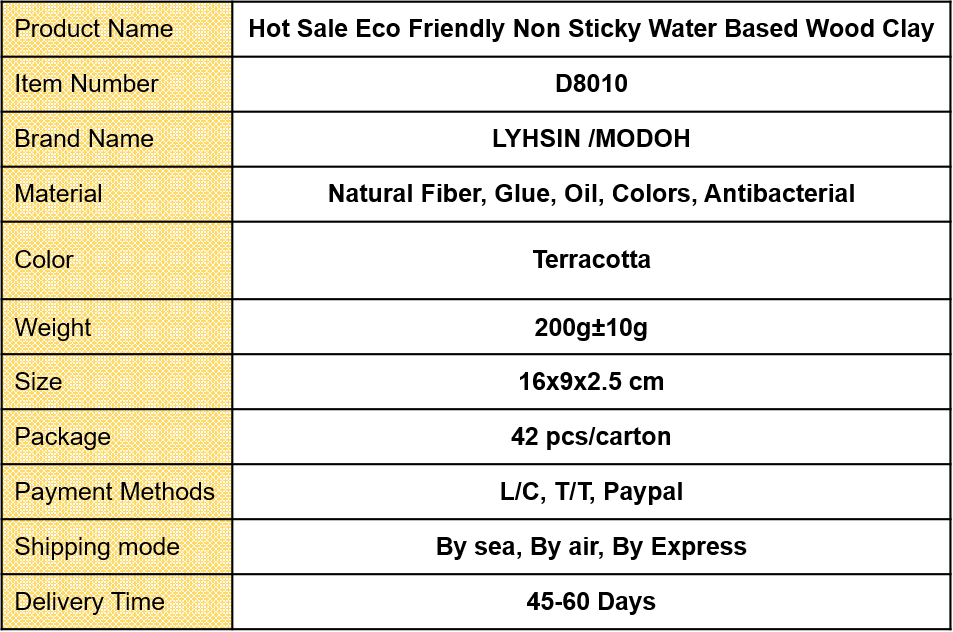 Application

Our Product

Why Choose Us?
1. We are produce the highest quality and moderate price clay product for our customer.
2. We offer custom color and specification options to match your clay .
3. One-stop shop service for a total solution that provide our customers the best service.
4. Air dry and easy to mix any color ,you don't need bake it.
5. We accept trial order ,it will help to develop your market.
Company Information
Ly Hsin Enterprise is a professional clay manufacturer located in New Taipei City Taiwan since the 1980s . We devoted itself to the manufacturing and development of the clay to educational and recreational toys.
Our products are all made with Non-toxic components and with high-quality standard. As a result of high quality products and outstanding customer services , we have gained a global sales network reaching Asia, Europe, Northern American…etc
CSR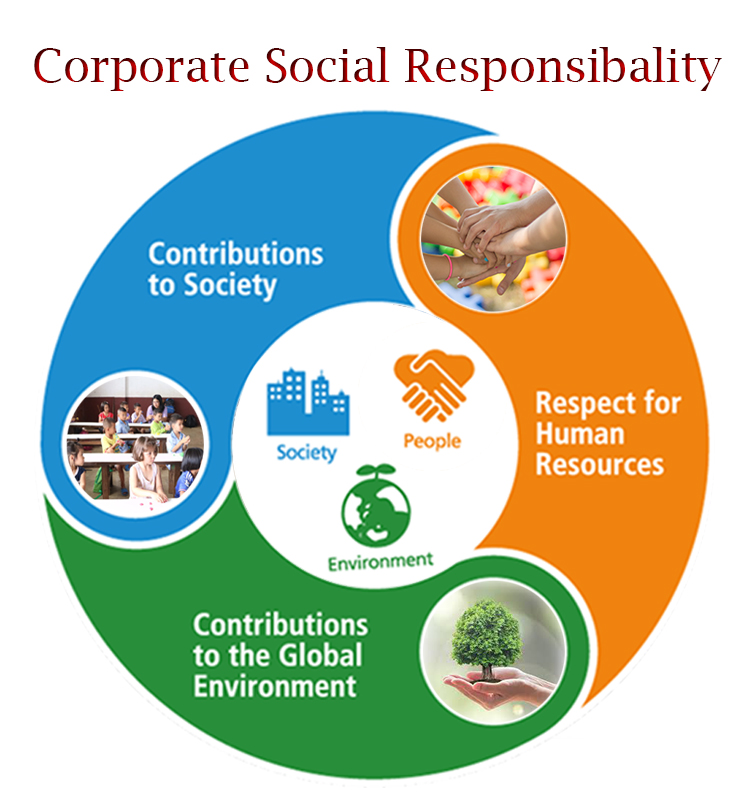 LY HSIH Enterprise Co., Ltd provide the best clay that is high quality, non-toxic, eco-friendly, colorful in the world for you.
We are devoted ourselves to contribute to community through environmental sustainability and social responsibility.
For example, each year we donate our clay products for school clubs to teach elementary students to use clay and hope they can have the same resources. We also cooperate with university clubs to help children have more knowledge and imagination. Therefore, more and more people will know our company and products well.
We hope that our company's assistance can bring more and more children to hope and help.
Certificates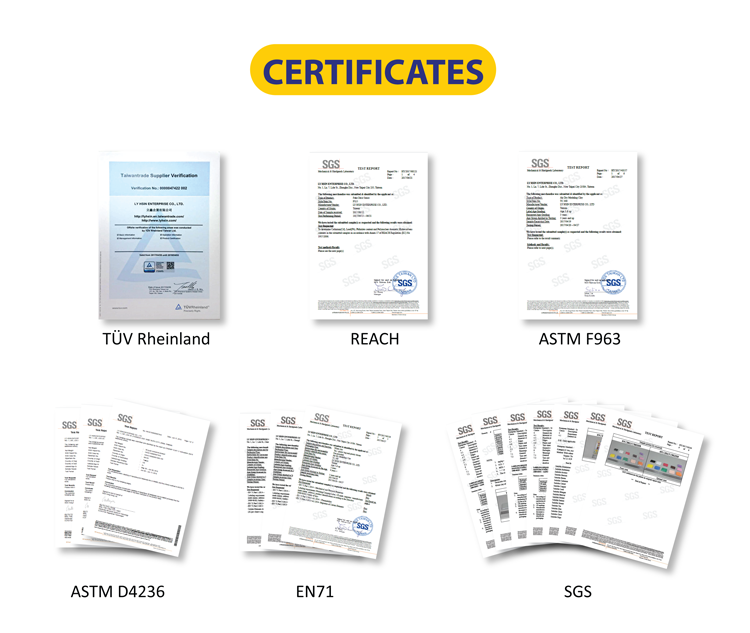 How To Place Order

Packaging & Shipping
If you are interested in our product…
Please send an inquiry to us.
We need your Contact information and Product specifications.
We will provide you quotes in 12 hours.
FAQ
Q1. Are your company a manufacturer? How many years of production experience?
A1: We are a professional clay manufacturer located in New Taipei City Taiwan since 1980s. We have more than 20 years of experiences in production and export.

Q2. What is the sample terms?
A2: Free sample is available and customers pay the shipping cost. Sample will reach customers within 3-5 days.

Q3.Do you offer quantity discount?
A3: We offer the different prices based on your order quantity. Please feel free to email us for quotation.

Q4.How long is the shipping time?
A4: Shipment will be made within 7-10 days after payment. If you need any further information, please feel free to contact us.

Q5. How to make payment?
A5: We accept payment by Paypal or T/T transfer. (Please contact us for further details).

Q6.Can you customize logo, packaging design to this item?
A6: Of course! We can customize your logo and packaging design in products you order as per your request.

Q7.Can I be the agent?
A7: Welcome to be our partner,Please contact our sales representative for more information.
Q8.Can you accept OEM or ODM?
A8.Yes.OEM and ODM are welcome.
Q9.Who can I find if I have problems buying clay?
A9:Please contact us by Email or Skype.