AZ latest 89191 bluetooth anemometer which can be RH meter and CO2 meter at the same time to bring you brand new nice experience about wireless airflow meter. Contact now for more information and quotation!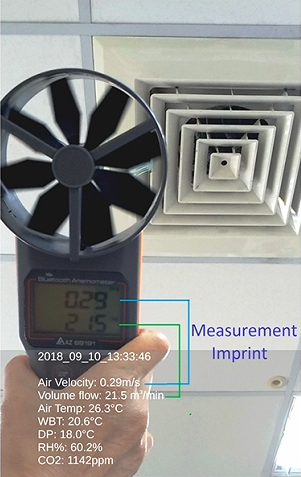 AZ 89191 Wind Speed Meter for Android & IOS
*Measures air velocity, volume, temperature, humidity, dew point & wet bulb temperature and CO2
*Broadcasting data every second to smart devices by using Bluetooth technology
*10 cm diameter vane type with build in temperature, humidity and NDIR CO2 sensor
*Auto airflow cone recognize
*Optional square & round flow cone and extension stick
*Unlimited points average auto calculation
*Time weighted average auto calculation
*Free APP provides data recording, photograph & filing
*Please search for "Nice Flow" from APP stores
Application of 89191 AZ Bluetooth 4.0 Air Flow Measuring Devices:
The 89191 AZ Bluetooth 4.0 wind speed meter can measure the Air Speed, Air Velocity, Air Volume, Temperature, Humidity value, which is the best choice as the wind speed monitoring device in HVAC (Heating, Ventilation, Air Conditioning and Refrigerating) or industrial related application.

The portable 89191 AZ Bluetooth 4.0 Air flow Meter has the 10 cm diameter vane type with built-in NDIR wave guide technology CO2 sensor, it can measure the CO2 value to monitor the indoor air quality.

The 89191 AZ Bluetooth 4.0 Anemometer is very easy to use. It could export the data through Bluetooth 4.0 wireless technology to User's smart phones via "Nice Flow" APP. Welcome to learn more about the operation procedures from the YouTube linkage in the end of page.

The 89191 AZ Temperature & Relative Humidity & CO2 & Air Flow Meter could attach to the specific air flow cone to measure the volume quickly. User just needs to install the compatible airflow cone, the meter will recognize the area for air volume calculations automatically. The air flow cone set has the round and square size, which could be met with most applications. We also provide the cone extension stick could be purchased, which could let user another way to take measurement in an efficient way without using ladder.

The AZ 89191 10cm Vane Temperature Anemometer was being designed and manufactured by AZ Instrument, a well experienced manufacturer for Environmental Measuring Instrument.


Model
89191
Wind Speed Range
0.20~30.00 m/s
Wind Speed Accuracy
±(1.5% of reading+0.3 m/s) for under 20 m/s
±(3% of reading+0.3 m/s) for above 20 m/s
Air Temperature Range
-20~60℃
Air Temperature Resolution
0.1℃, 0.1℉
Air Temperature Accuracy
±0.6℃
Air RH% Range
0.1%~99.9%RH
Air RH% Resolution
0.1%RH
Air RH% Accuracy
±3%RH (at 25℃ 10~90%RH, others ±5%RH)
CO2 Range
0~9999 ppm, (5001~9999 ppm out of scale range)
CO2 Accuracy
±30 ppm ±5% of reading (0~5000 ppm)
Temperature Response Time
60 seconds (typical)
Air RH% Response Time
60 seconds (typical)
LCD Update
Every second
Wet Bulb Temp. Display
-20~59.9℃
Dew Point Temp. Display
-5~59.9℃
Air Volume Display (CMM)
0~99999 m3/minute
Air Volume Resolution
0.1 (0~9999.9) or 1 (10000~99999)
LCD Size
54(L) * 32.5(W) mm
Operating Temperature
0~50℃
Operating RH%
Humidity <80%
Storage Temperature
-10~50℃
Storage RH%
Humidity <90%
Meter Size
269(L)* 106(W) * 51(H) mm
Weight
~200g
Battery
AAA*4 PCS
Optional Accessory
Airflow Cone (W/soft Carry Case), Cone Extension Stick
Standard Package
Meter, Batteries, Manual, Hard Carry Case
With CE Certification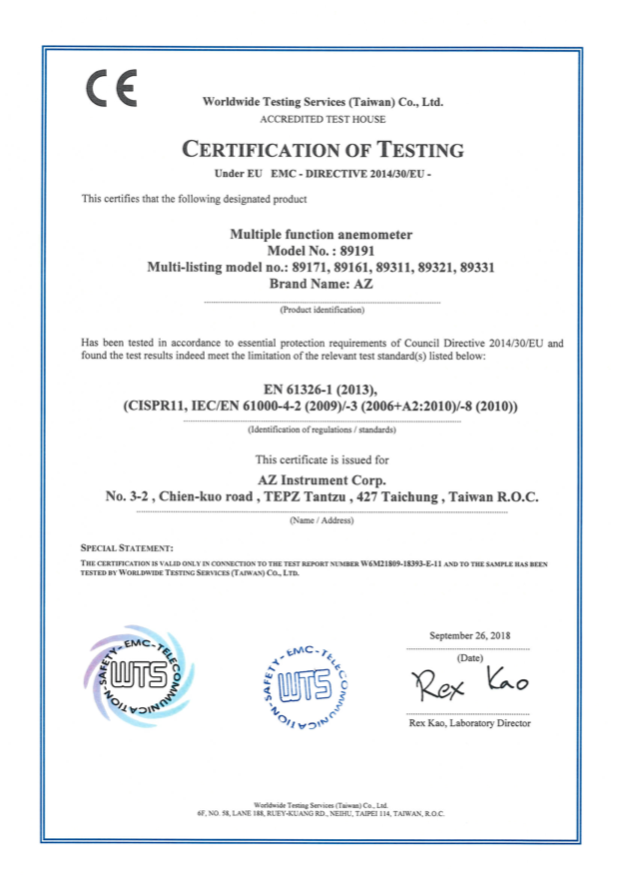 Operation Video