AZ's USB data logger can be use as barometric meter and measure humidity and temperature at the same time which is applicable to pharmaceutical industry, hospital, lab, factory or other industrial environment. Contact now for quotation.
Features
*USB logger, plug & play, temp. + %RH + barometric pressure
*USB 2.0 connector
*Software & driver are not required for any operation
*Automatically generate a PDF and Excel report while plugged into computer
*High accuracy thermistor sensor
*Completely programmable by users for maximum flexibility includes: 6 languages, sampling interval, start delay, alarm delay, unit, alarm range, alarm type, password and user name
*Compact, light and IP65 (not include sensor area)
*Big LCD provides excellent viewing experience
*Count key to review max. & min value of logged data
*Dual color LED provides instant status indicator: REC and High/Low temperature
*Large memory capacity, 16000 readings each parameters.
*Powered by 2 pcs CR 2032 battery, easy replacement.
*Mark key to provide 8 marking during transition period
*PDF file contains summary, graph and detailed data list
*EN12830 and RoHS compliance
Application
The 88163 AZ Digital USB interface Data Logger can measure and record the Barometric, Humidity and Temperature value. It can export the report with Excel or PDF format depended on the User's purpose.

The 88163 AZ USB Barometric, Temperature & RH Recorder can plug into PC easily, which would not need to install any software in advance. Welcome to learn more about the 88163 AZ Data Logger operation procedures from the following YouTube in the end of page.

The 88163 AZ USB Data Logger could be used for the warehouse, work space, laboratories, basement, wine cellar, aircraft cabins, refrigerate truck (cold chain logistic), storage containers in food transport/ logistic / processing, incubation process, hatcheries, art galleries, museum, HVAC field or other controlled environment.
It can be met with the formal tracking purpose of the transportation especially for Pharmaceutical industry, hospital, lab, factory or other industrial environment. It could be best tool for quality control requirement.

The AZ 88163 Temp./RH/Baro USB Data Logger was being designed and manufactured by AZ Instrument, a well experienced manufacturer for Environmental Measuring Instrument.
Model

88163

Temperature Range
NTC Thermistor, -30~70℃, -22~158℉
Temperature Resolution
0.1℃, 0.1℉
Temperature Accuracy
±0.5℃
Humidity Range
Capacitor, 0.1~99.9% RH
Humidity Resolution
0.1% RH
Humidity Accuracy
±3% (at 25℃ 10~90%), others ±5%
Barometric Pressure
300~1100 hPa, 8.9~32.5 inHg
Barometric Resolution
0.1hPa, 0.1 inHg
Barometric Accuracy
±3 hpa (0~60℃), ±5 hpa (-20~0℃)
Accuracy is not specified in another temperature range
Sampling Points
16K:T, 16K:RH, 16K:Baro
Meter Size
110(L) * 45(W) * 17(H) mm
Operating Temperature
-30~70℃ (Logging Status); Room Temp. (PC Mode)
Operating RH%
Humidity <90%
Storage Temperature
-40~85℃
Storage RH%
Humidity <90%
Weight
~50g
Battery
2PC 3.0V CR2032, 3 months life times
Sampling Interval
30 seconds, 5, 10, 30, 60, 90, 120 minutes
Start Delay
0, 5, 30, 45, 60, 90, 120 minutes and 24 hours
Alarm Range
Programmable from -30 to 70℃
Alarm Delay
0, 5, 30, 45, 60, 90, 120 minutes
Alarm Type
Single Event, Cumulative, Disable
Operation Keys
3 Keys (Start/Stop Key & Mark Key & Count Key)
LED Indicator
REC, High /Low Alarm
Standard Package
Logger, Batteries, Manual, Paper Box

With CE Certification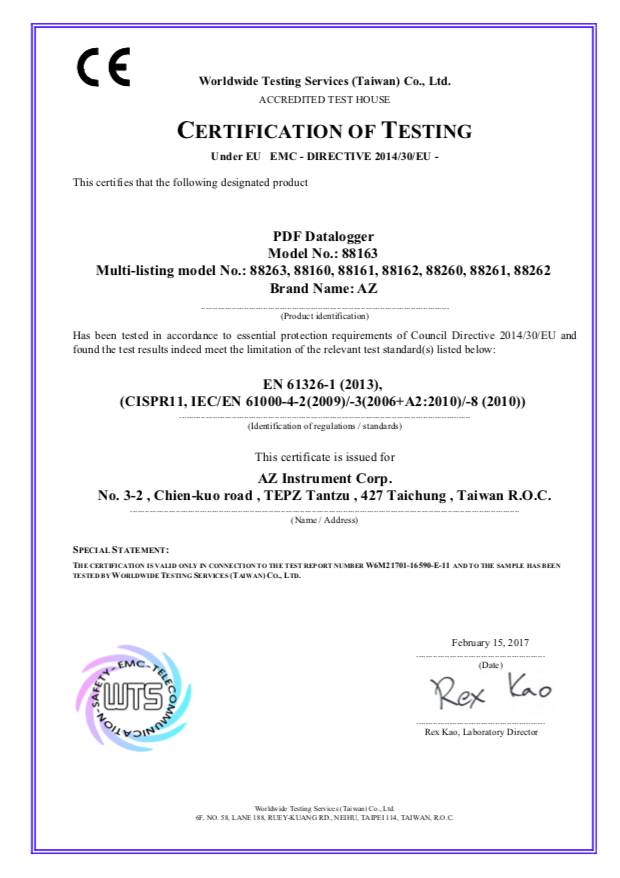 Operation Video