Adjustable Wrap around 3D Breathable Spacer Fabric Knee Brace
Worldwide Agent Wanted
l No Neoprene, No Latex, hypo-allergenic knee strap
l Made by 3D breathable, anti-pilling, soft touch, elastic Patented OK-spacerfabric. Inside brace is made by quick dry yarn. OK-Spacer Fabric is made bypolyester and elastic yarns.
l Designedto improve patellar tracking and elevation by applying pressure on the tendonbelow the kneecap
l ideal for patellar tendinitis (jumper's knee, runner's knee) andOsgood Slauter's Disease.
l One size fits most, with Velcro allow adjustment for maximumcompression
l Machine washable
l Available in US Amazon https://www.amazon.com/dp/B01HNISQK2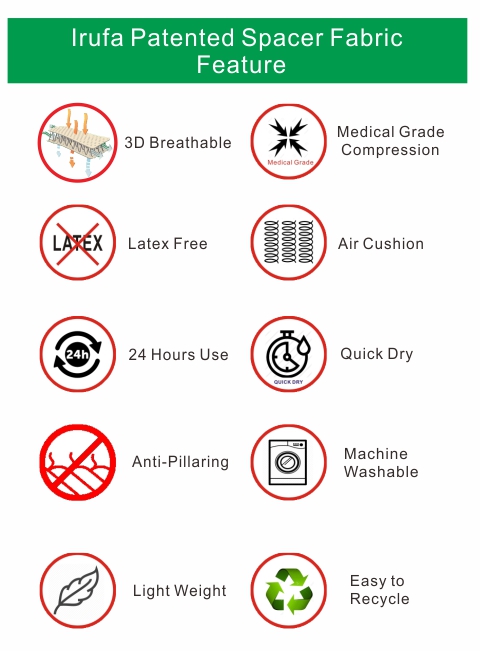 C& A support provide comfortable and active supports. OK-Spacerknee Strap is 3D breathable, compression and support to treat knee pain forminor knee problems. The wrap is adjustable, easy use, comfortable, universalleft or right knee. Irufa's patented material, the Ok-Spacer materials are,neoprene free and latex free, so you don't have to worry about skinirritations. This jumper's knee strap have the velcro design to allow adjustcompression. It can improve patellar tracking and elevation byapplying pressure on the tendon below the knee cap and reduce the effectscaused by frequent running and jumping and provides relief from chondromalacia.
Elastic spacer fabrics consist oftwo covering textiles, which are connected with filaments. The distance betweenthe two layers is exactly defined. Spacer Fabric are also called 3D textilesand uniquely facilitates elastic, air flow, breathability and lightweight.Elastic Spacer fabric will replace most of neoprene in the near coming future.Not all the elastic spacer fabric are the same. Irufa Industrial Group choicedifferent elastic compression spacer fabric for the different application.spacers provide a great many of positive characteristics:
• High AirPermeability
* Compression Strength
* Soft Touch
* Pressure Redistribution.
•Anti-allergenic
• Easilyrecyclable
• lightweight,tearproof and easy-care
Spacer fabric can be made byfunctional yarn to have additional function. The additional function of spacerfabric are as follows:
* quickly-dry, water diffusion &wicking properties
* Cooling
* Heat generation
* Deodorant
* Flame resistance (FR)
* Anti-bacterial
* Anti-mildew
* Anti-static
* Far Infrared Ray
* Minus Ion