Wholesale Art Supplies 100g Whipped Cream Clay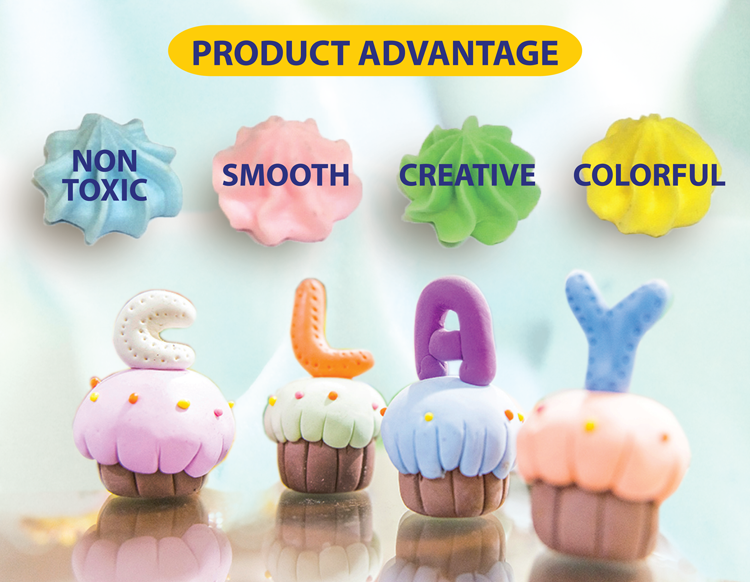 Key Features
Cream clay is air-dried clay and looks like real whipped cream. Their materials are microcapsules, glycerin, Colors, and antibacterial.
Cream clay is very tough are high toughness but also easy to shape.
The good characteristic are high toughness and easy to sharp. It is ideal for creating miniature pieces、dessert decoration、fake cake accessories( ice cream, macaroon, doughnut, cake, scrambled eggs, etc.) and for nail art, jewelry, and decoration for a cell phone.
It is ideal for creating miniature items like fake cake accessories (ice cream, macaroon, doughnut, cake, scrambled eggs, etc.), nail art works, jewelries, and decorations for cell phones.
Non-toxic
Eco-friendly
Safe
Air-dried
Using nozzle with cream clay can make different shape.
Can mix with acrylic colors to create different colors.
Complete drying requires 24-48 hours .
It is ideal for creating miniature items.
Pass test report EN71 part1.2.3 &ASTM D4236.
Product Description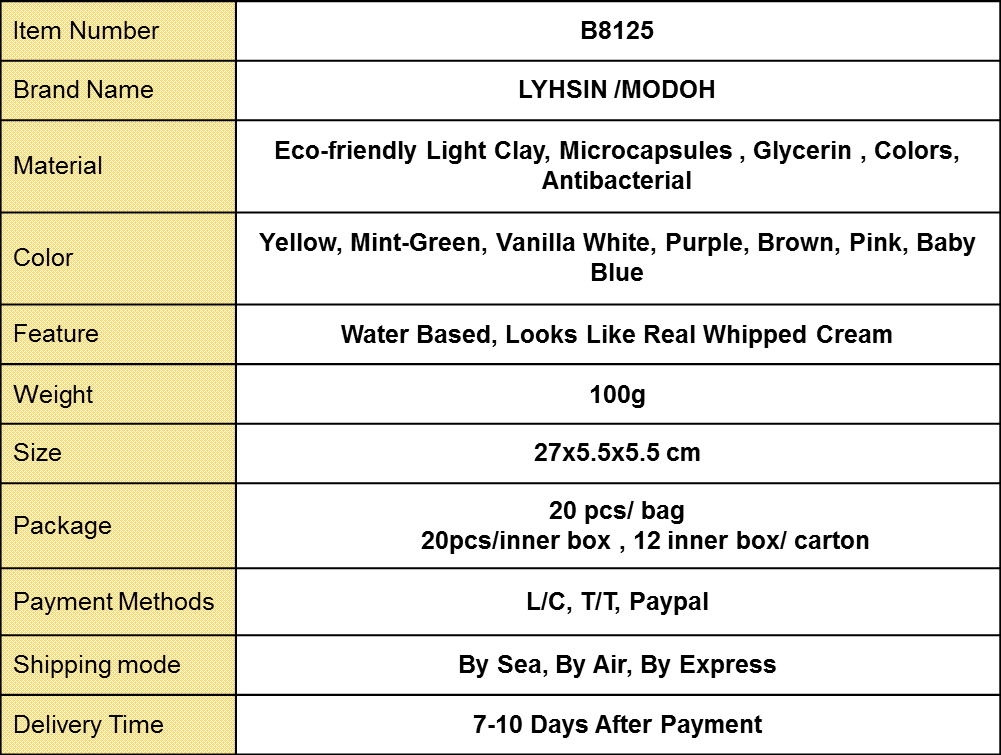 It is easy and non-hardening! First, Get Cream Clay you want. There are many different colors, and you can try to mix colors. It must be fun!
Let's talk about usage of Cream Clay!
You can empty the contents of this bag into the other bag after you have added your chosen piping tip to the end and then pipe directly onto your chosen object, or piping directly from the bag it comes in!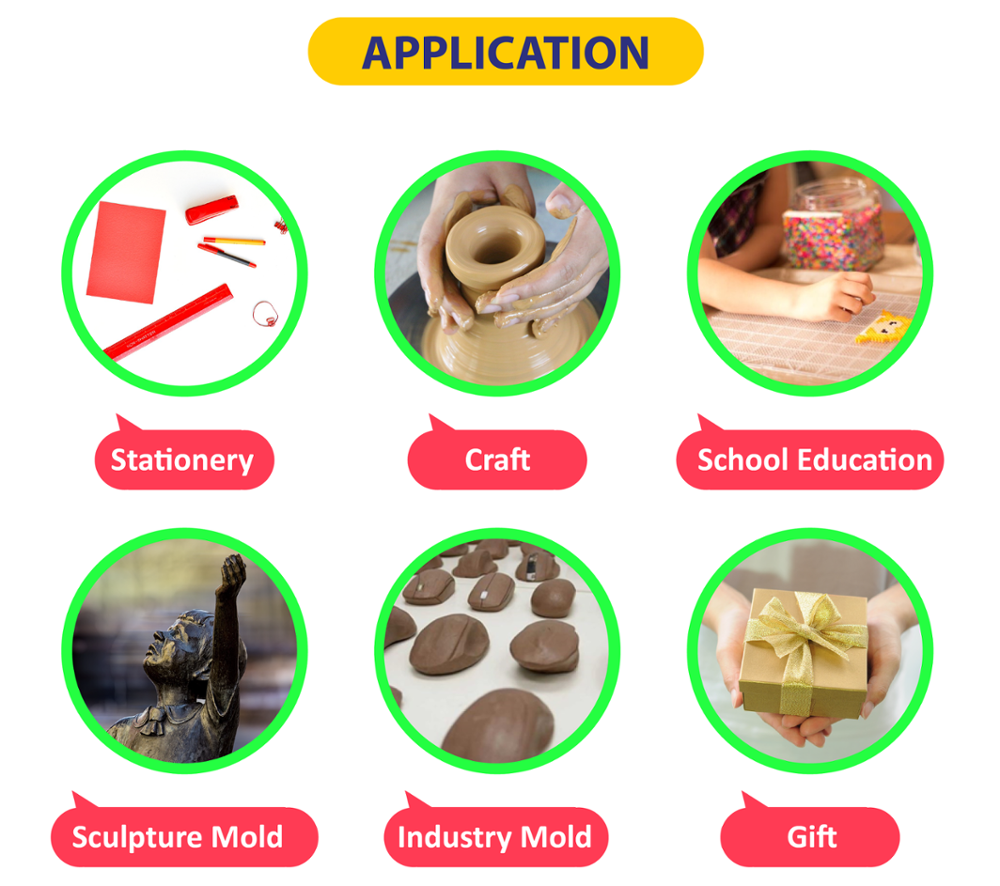 Clay Comparison Chart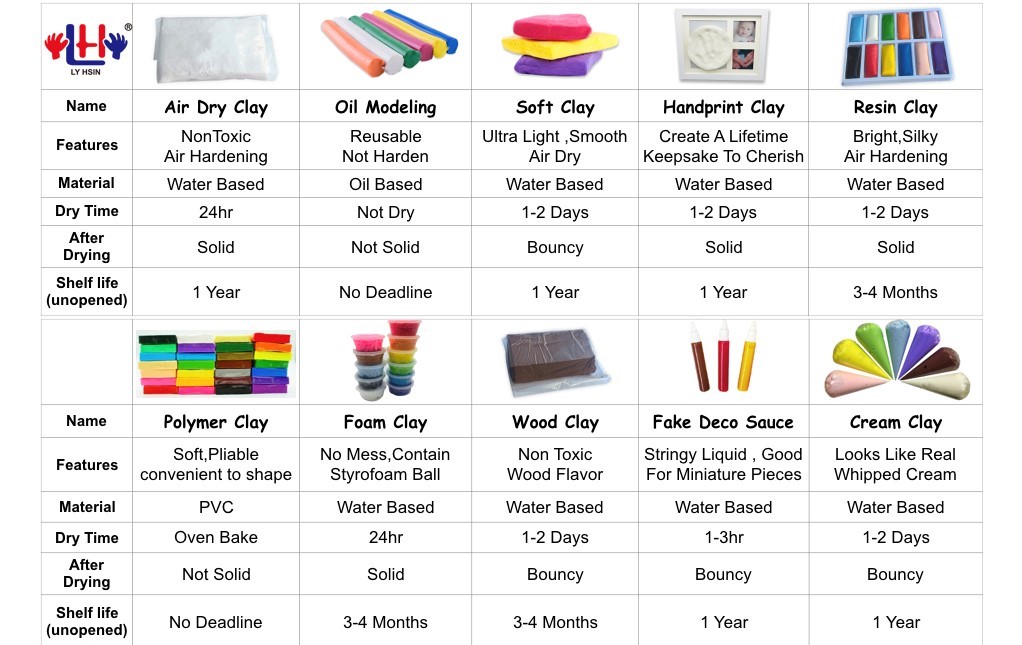 Our Services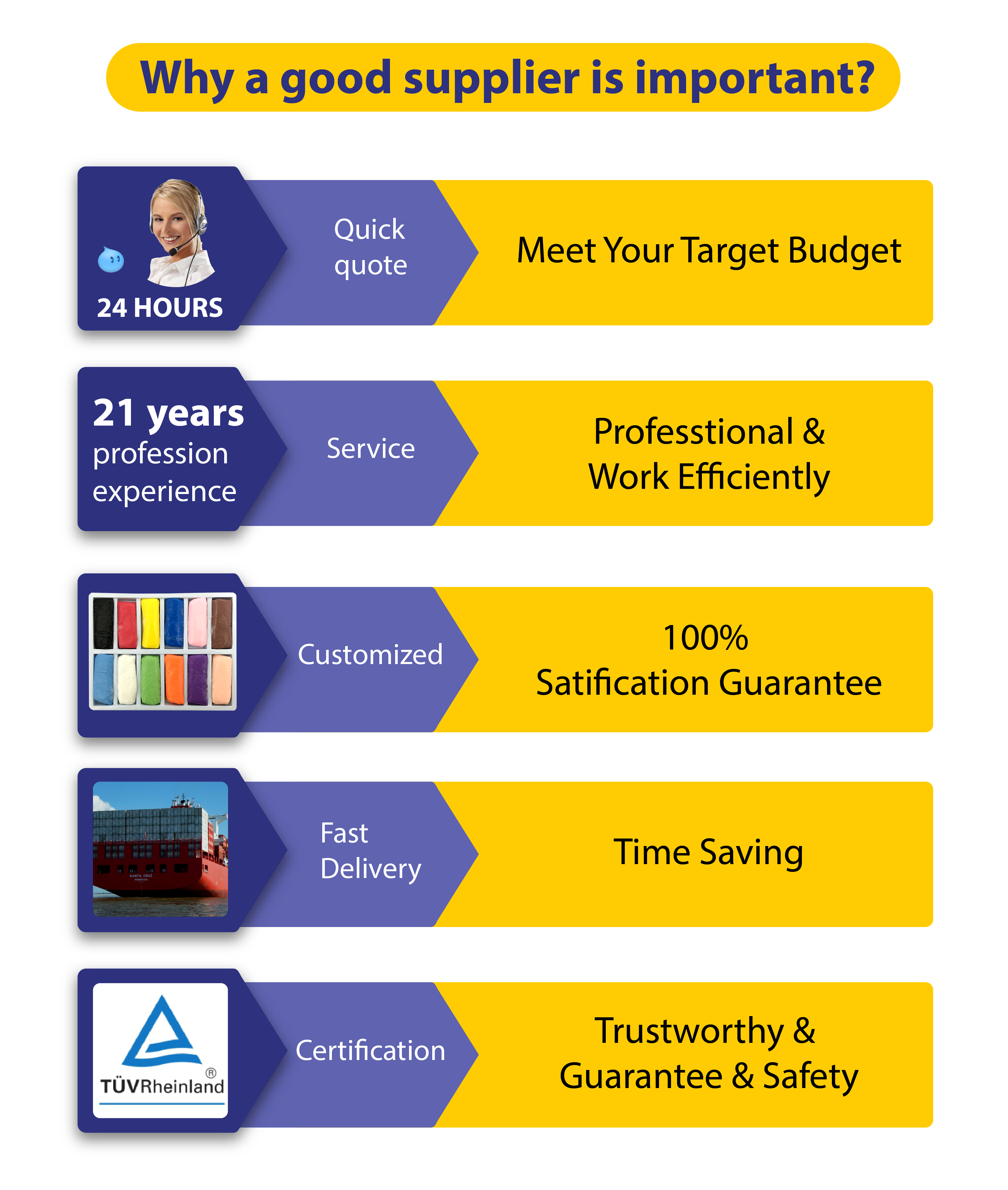 •We respond to customer's questions within 24 hours,365 days.
•With more than 20 years experience, we understand our customers needs and communicate efficiently.
•

Proficient experience in standard items and lots of accomplishment in customized displays.
•Assist you to choose the most sutiable shipping way to transport.
•We

have been certified by TÜV Rheinland to identify factory technology.
Why Choose Us?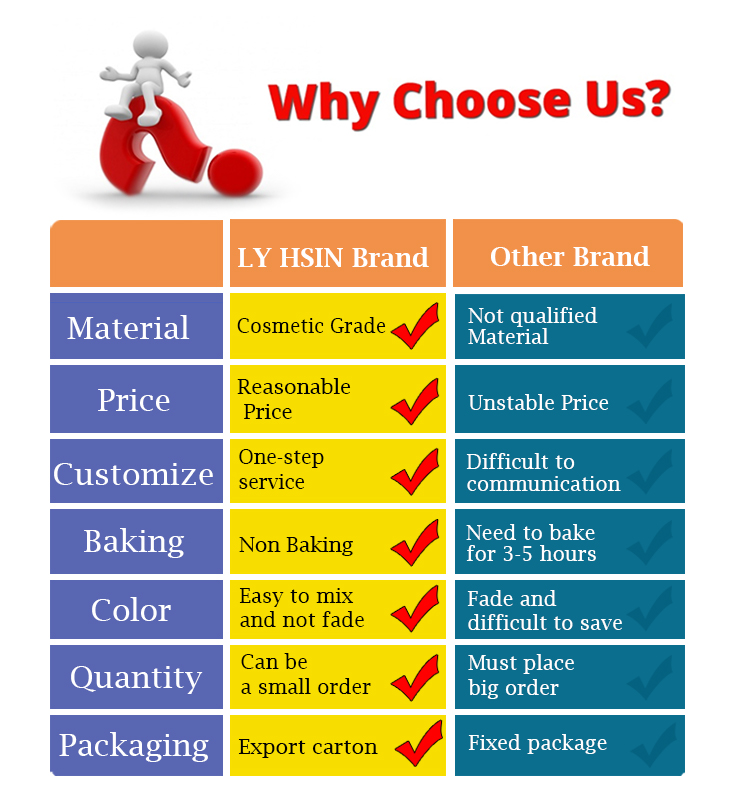 Company Information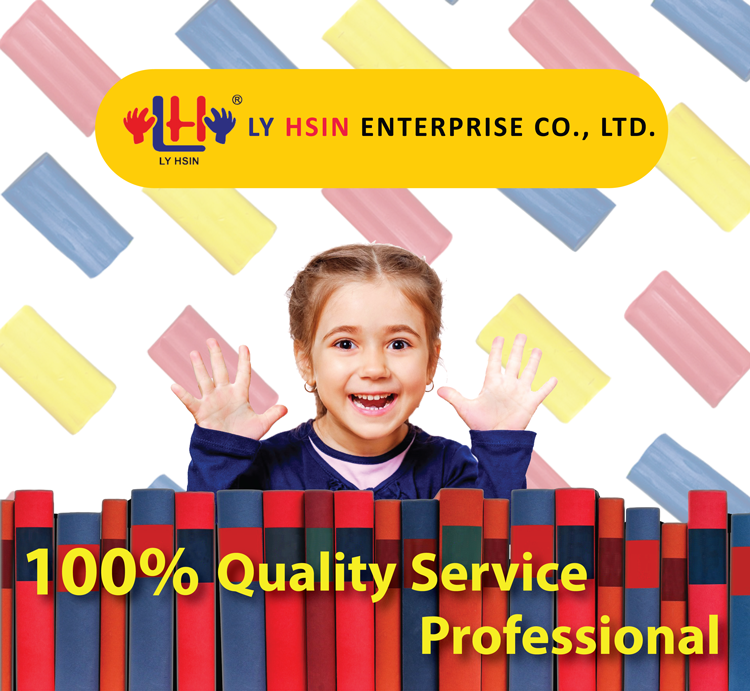 Ly Hsin Enterprise is a professional clay manufacturer located in New Taipei City Taiwan since the 1980s . We devoted itself to the manufacturing and development of the clay to educational and recreational toys. It's difference with the general clay is
1. Texture is smooth.
2. Not sticky your hand.
3. Non-Toxic.
4. Custom made design.
We have an excellent reputation through
20 years of business experiences
focus on serving customers who want to produce different type clays.

1.
Safety
All of our products are Non-Toxic and meet makeup safety standards.
2.
Quality assurance
Our materials are of the highest quality standard and we guarantee this is maintained with every order.
3.
Personalization
We customize all our offerings to our customers specific needs.
4.
Professionalism and service
With more than 20 years experience, we understand our customers needs and communicate efficiently.
5.
Customer Satisfaction
We are committed to the satisfaction of our buyers and aim to build lasting relationships for continued success.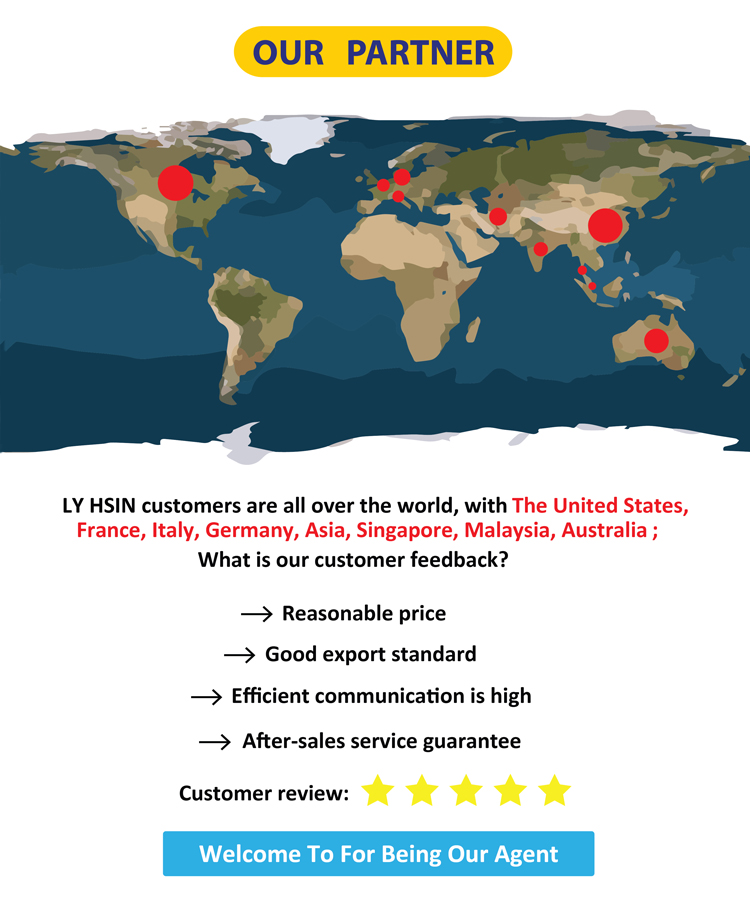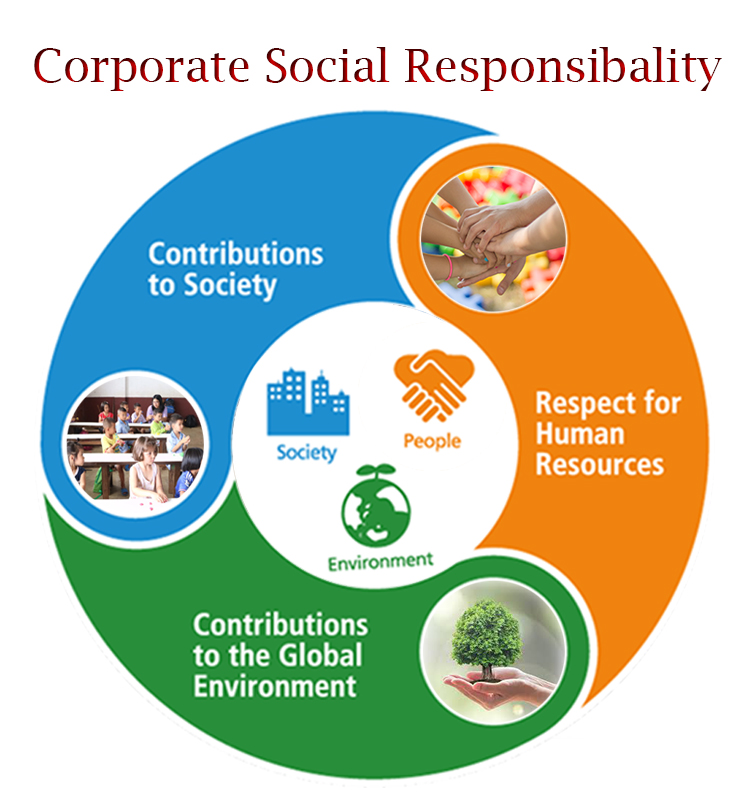 LY HSIH Enterprise Co., Ltd, provide the best clay that is
high quality, non-toxic, eco-friendly, colorful
in the world for you.
We are devoted ourselves to contribute to community through environmental sustainability and social responsibility.For example, each year we donate our clay products for school clubs to teach elementary students to use clay and hope they can have the same resources.
We also cooperate with university clubs to help children have more knowledge and imagination.
Therefore, more and more people will know our company and products well.We hope that our company's assistance can bring more and more children to hope and help.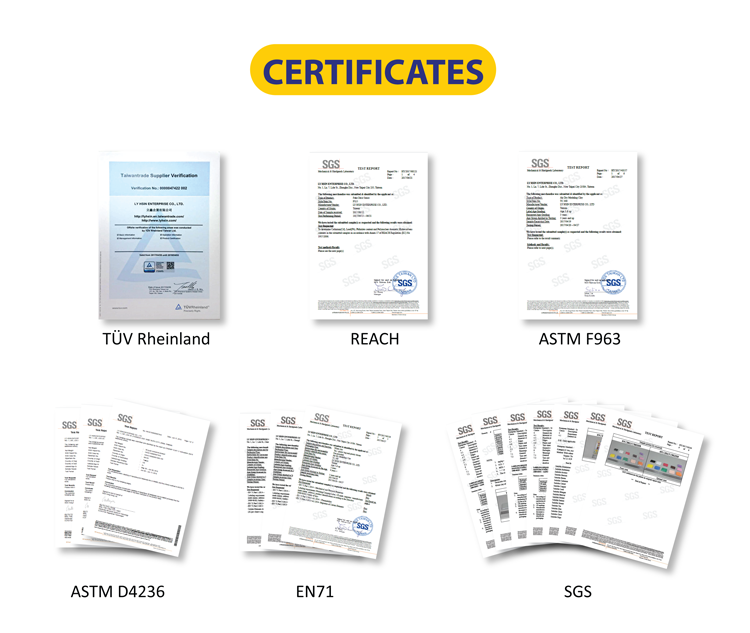 Q1.What is the sample terms?
A1:Free sample is available and customers pay the shipping cost. Sample will reach customers within 3-5 working days.
Q2.How long does specification product lead time and shipping time?
A2:The lead time is 5-7 working days after payment and shipping time is 3-5 working days.
Q3.When I want to buy a customized product , what information should I provide?
A3:If you need to adjust clay conditions , tell us your idea after you tested the sample, if you need a customized package box , please prepare your idea and AI design files to discuss with us , we will contact us box suppliers and offer you the latest quotation immediately.
Q4.Why the clay have strange flavor , changed colors and hardened?
A4:We strongly recommended our customer have to store unused clay in the seal box or plastic bag , also keep away hot and humid place , please stored at room temperature.
Q5.What should I do if my product have problem?
A5:Please E-mail us your product situation and show us your product picture ,if it is the defect of our products ,we will send you another product to you and bear the freight cost.
Q6.Do you offer quantity discount?
A6:We offer the different prices based on your order quantity , we also have unscheduled promotions , please stay tuned for updates at any time.
A7:We accept payment by T/T , Paypal , Credit Card , Western union , Alibaba Trade assurance.(please contact us for further details).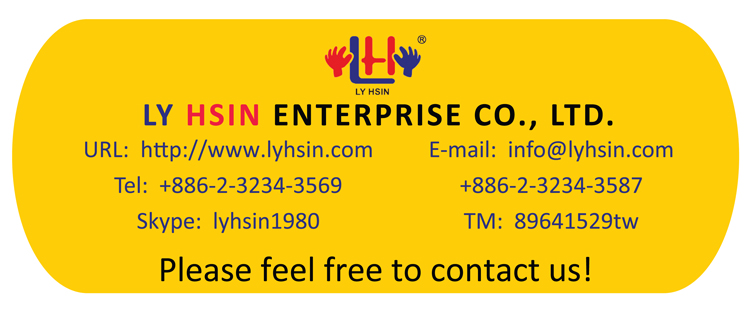 If you are interested in our services…
Please send an inquiry to us.
We need your Contact information and Product specifications.
We will provide you quotes in 12 hours.