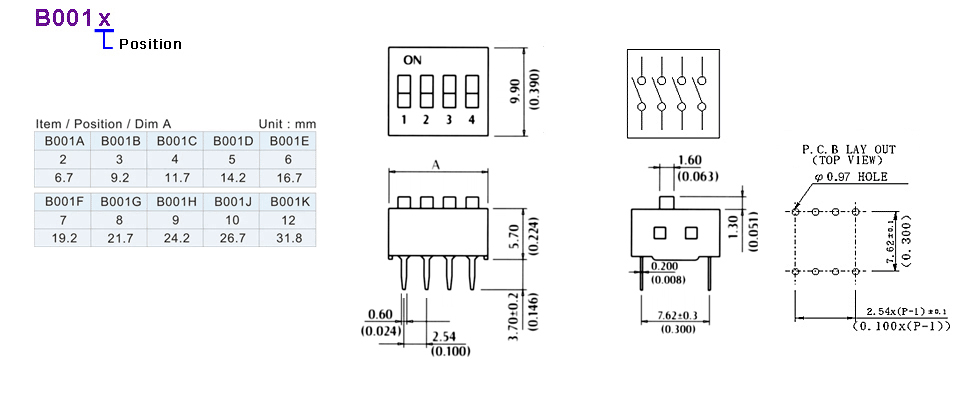 2.54mm DIP switch 4 positions gold-pin

RoHS Directive-compliant

Function: SPST

Features

Tactile response is performed directly by larger contact pressure to ensure very stable contact

All plastics are UL 94V-0 grade fire retardant

Bottom epoxy sealed standard to ensure free of flux immersion during wave soldering

Contact wiping on make and break

Gold plated contacts to ensure low contact resistance and long mechanical life

Ideal for data processing, communications, remote controls and burglar alarm system use, where manual programming is required

Applications:

Numerical setting for computer terminal equipment

Price setting for vending machines

Programming for game machines

Programming for industrial equipment and measuring instruments

Specifications

Electrical

Contact rating:

switching: 25mA, 24VDC

non-switching: 100mA

Contact resistance:

initial: 50mΩ Max.

after life test: 100mΩ Max.

Insulation resistance: 1000MΩ Min. at 100VDC

Dielectric strength: 500VDC Min. for 60 seconds

Capacitance between adjacent switches 5pF Max.

Mechanical and environmental

Operating temperature: -25°C to +70°C

Storage temperature: -40°C to +85°C

Operation force: 800gf Max.

Mechanical life: 2000 operations

Humidity: 95% RH, 40°C for 96 Hrs.

Vibration: 10 to 55Hz for 6 Hrs.

Solderability: After flux 230±5°C for 5±0.5 seconds, 95% coverage

Resistance to soldering heat: 20±5°C for 5±1 seconds

Besides, another DIP switch items are available, please refer to our web-site and the attached catalogue.
※More detailed specification, competitive prices and flexible quantities, please check and buy on our web-site www.shallin.com.tw!